What Did We Learn This Month?
 SELF: March 2013
Hi All!
SELF had a big old redesign and relaunch of its brand recently and according to this article from the New York Times they are aiming for the 20-something reader. This filled my heart with dread but I am giving them the benefit of the doubt that it will still be the fun/smart read I look forward to each month.
Here we go…
SELF Cover Star for March:
Julianne Hough
I am not a big watcher of Dancing With the Stars but I do remember the couple of times I have seen it and thinking Julianne Hough seemed sweet. The dancer turned acrtess has a new movie out called Safe Haven (costarring with Josh Dahumel) and was scared about filming her first love scene (and subsequently needed a shot to get through it.) That's about as risque she gets apparently. (Oh the fun in life she has to look forward to!)
Julianne is a teeny tiny dancer who claims to gain weight pretty easily so she works hard to keep fit (when not enjoying the occasional splurge day with boyfriend Ryan Seacrest.) You can get a look at an exclusive workout trainer Astrid McGuire (@AstridMcGuire) at this SELF.com link.
So What Else is in the March SELF?
30-Minutes Workouts
Love this feature with "5 Cool Cardio Workouts" that are each only 30 minutes long and can fit into any busy person's schedule.
Box Jumps
SELF has a new page called "Dying to Try It" and this month they talk about how to perform a well-executed box jump. Trainer Ted Borgerding of Ignition APG gym in Cincinnati gives us the info here.
(I love the tights on this model!)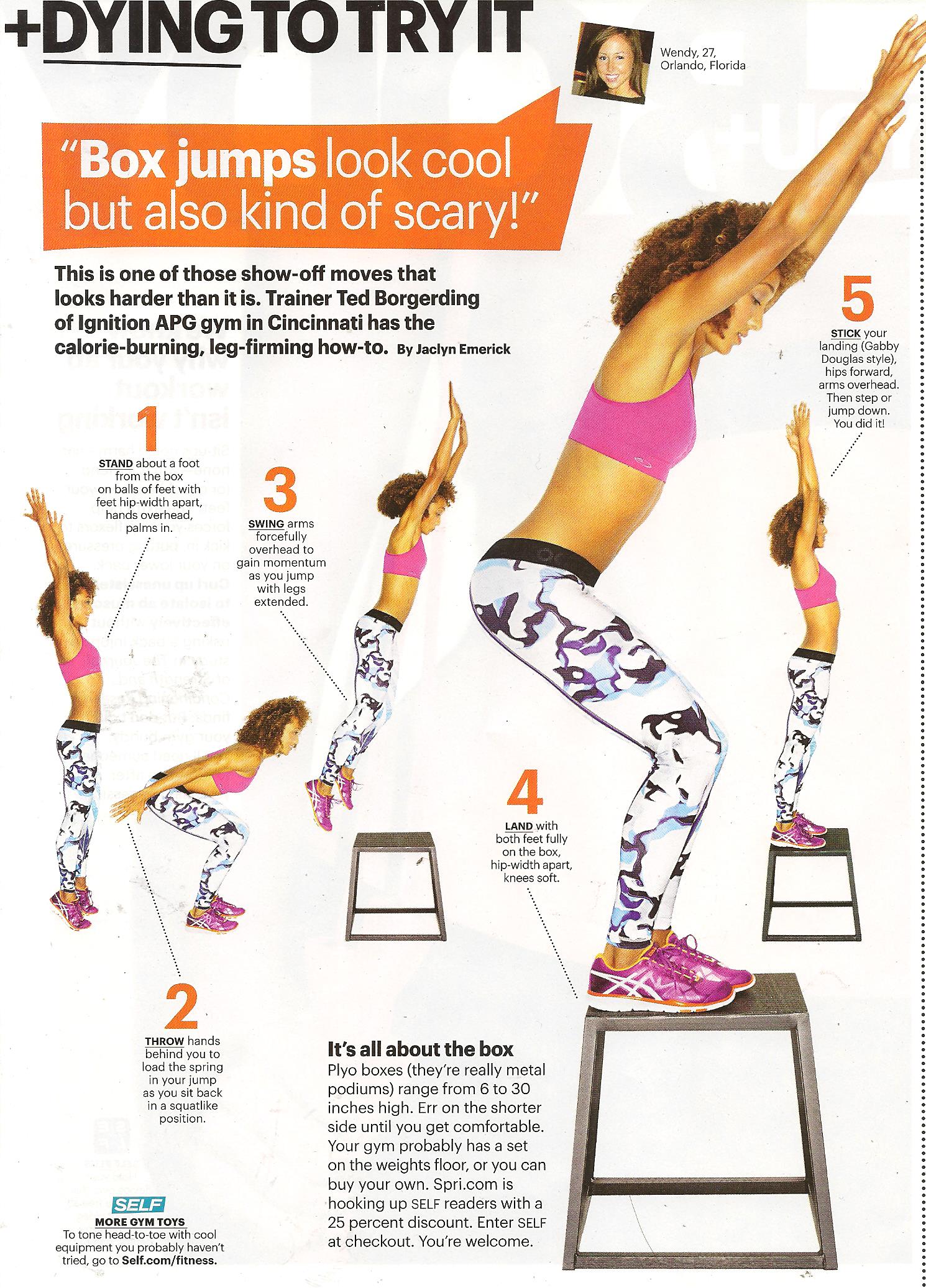 "Sexy Arms. Yours." (The punctuation very strange in the magazine…)
Another new page is titles "Trainer to Go" which features exercise physiologist Pete McCall (@FitExpertPete) who shows how to get sexy arms.
"The Get-Ahead Drug"
SELF goes into a more serious mode here talking about the dangers of the ADD prescription drug Adderall.
The Rest of the Best of the March SELF:
"DIY Facials" Why spend a fortune on beauty things when you can make your own lotions and potions with fresh ingredients you already have at home?
"High-Top Sneakers" Sparkly, high-top sneakers are all the fashion rage this year darling!
"Surviving a Quart-Life Crisis" Did I mention they are skewering younger at SELF? This piece is about surviving life in your mid 20- mid-30s. (But they really mean surviving 25 which I admit was a sucky age but still…)
"I Married the Wrong Guy" What does it say about me that my favorite article in this issue was an anonymously-written essay from a woman claiming to regret her marriage? (Don't answer that!)
Overall Grade:
B I am not sure about the new direction yet but will give them a couple more issues before I decide whether to keep on reviewing SELF each month.
On the plus side–I love the workouts.  The rest of the sections–not so much right now. Next month…
Have you read the March SELF yet? What do you think of the new look?
You can check out SELF online at: www.Self.com
Ox ox,
BFC
Brooklyn Fit Chick
Follow me on Twitter: BrooklynFitChik (be sure to note the spelling!)
"Friend" me on Facebook at "Brooklyn FitChick"
Instagram: "margodono"
You Tube: "BrooklynFitChick1"