BROOKLYN FIT CHICK REVIEW!!
THE NASM WEIGHT LOSS SPECIALIST PROGRAM

 Hi Gang!
Two years ago I passed the NASM Personal Training Certification (National Academy of Sports Medicine) which is one of the biggest personal achievements of my life. Trust me—this is NOT hyperbole. I studied for weeks for that notoriously difficult exam and it is a source of pride for me to say "NASM? Oh yeah—I passed it on my first attempt." Yay me!
Getting certified was tough enough but staying certified is an almost bigger challenge as it requires I take a certain number of continuing education courses in order to stay current which is, quite frankly, a huge pain in my butt schedule-wise. NASM offers several day-long workshops throughout the year to earn much-needed points but they are mostly held on weekends and generally running from 8 am to 4 pm ALL DAY. The whole day. My poor old brain can't handle any learning past a couple of hours at a time these days so I find these day-long seminars very trying. Plus they occur on the days I teach and earn most of my money. So what's a girl to do?
Luckily I was contacted by NASM to try out their new online Weight Loss Specialist course to help me earn 1.9 (out of 2) points—score! (Note—they did pay for my course but the opinions are my own.)
Here is some of the information about the Weight Loss Specialist course that is not based on opinion but rather from their press release:
"The Weight Loss Specialist (WLS) program is a 15-hour, online course earning the fitness professional 1.9 Continuing Education Units (CEUs) upon completion of the exam. Never before have so many weight-loss resources been available in one concentrated credential, providing health and fitness professionals applicable programs that turn into life-changing results for their clients.
At the core of the new Weight Loss Specialist course is an advanced curriculum backed by years of research and proven scientific analysis. A few key areas of study include:
The psychology and physiology of weight management
How to avoid weight-loss plateaus
Dispelling well-known weight-loss myths
Methods for lifetime weight-loss success
We are cutting through the diet and weight-loss noise, providing Certified Personal Trainers and top-level fitness professionals with a new approach to weight loss. The Weight Loss Specialist is a revolutionary course that combines proven methodologies and techniques with ways to incorporate our proprietary Optimum Performance Training™ (OPT™) model for continued career success," said President of the National Academy of Sports Medicine Andrew Wyant."
Once you register online to take the course you will see that there are 12 "modules" for each section which includes downloadable (and printable) information. This is what they look like altogether: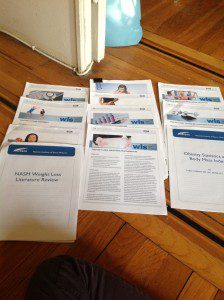 Plus each module has a video to watch and explain its subject.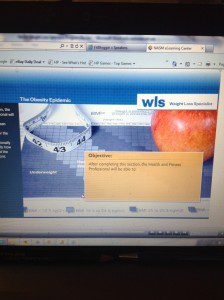 Are you curious? Well then, here are some of my takeaways after participating in this program…
Pros and cons of NASM Weight Loss Specialist Certification:
Pros:
The test can be done completely online and on your own time. This is a 15-hour (!) exam with TONS of material to get through so I found it very convenient to go through it in two-three hour chunks at a time.
The material is top notch. NASM prides itself on being a science-based organization and they make sure to differentiate what is provable in terms of weight loss theories and what is merely speculation.
You have three chances to pass their online exam (100 questions in 90 minutes!) which means if test taking makes you anxious (as it does in my case) you have a few chances to get it right.
The videos for all of the chapters in the course explain each topic clearly and concisely.
Working online means working at home for me so I don't have to travel to a location to take a seminar which would add to an already long day.
Cons:
15 Hours is still 15 hours and it took me a few weeks to get through all of the material.
Some of the subjects were hard for me to grasp right away and I would have appreciated an in-person instructor to guide me on them.
The total cost is $499 which is prohibitive for some budgets though you can pay in installments and the certification is good for a lifetime.
Anyhoo—I was very happy with my only NASM experience and recommend to anyone who has issues with getting to continuing education classes and seminars.
Have you done any online courses? What has been your experience with them?
Talk soon!
Ox Ox,
BFC
Brooklyn Fit Chick
Follow me on Twitter: "BrooklynFitChik" (note the spelling!)
Friend me on Facebook: "Brooklyn FitChick
Instagram: "margodono"
You Tube: BrooklynFitChick1