What Did We Learn This Month?
Recaps of Bicycling, Fitness RX for Women and Prevention
Hey there! Hi there! Ho there!
How is your June coming along so far? Me? I have been busier than a one-armed paper hanger but I am determined to get these recaps out to you.  So without further adieu–I bring you my latest batch of favorite reads.
Bicycling: July 2013
"Bring the Heat" Bicycling offers tips to ride outside in this god forsaken heat and perform even better.
"Get Hooked" I am not much of a fish person (Salmon? No thank you!)  However—this handy guide might me rethink my ideas on this food group.
"Sunscreen" Here we get all sorts of tips on how better use sunscreen while enjoying the great outdoors.
"Make Your Own Charity Ride" I know several friends who will refer to this article soon! Great information here.
"2013 Guide to Riding Everywhere" My neighborhood is about a thousand times more bike-friendly than when I first moved here which is pretty amazing. The same holds true across the U.S. and Bicycling's editors find out who is riding out there, what they ride and how to survive the weather all year round.
"Revenge of the Nerds" The nerds are taking over the cycling world by using their smarts to outwit their competitors. Read here how Team ViaSat won last year's Race Across America (RAAM.)
"Stunning Rides" The 2013 'Best Mountain Bikes" are featured in the July issue.
Check out Bicycling online here: www.bicycling.com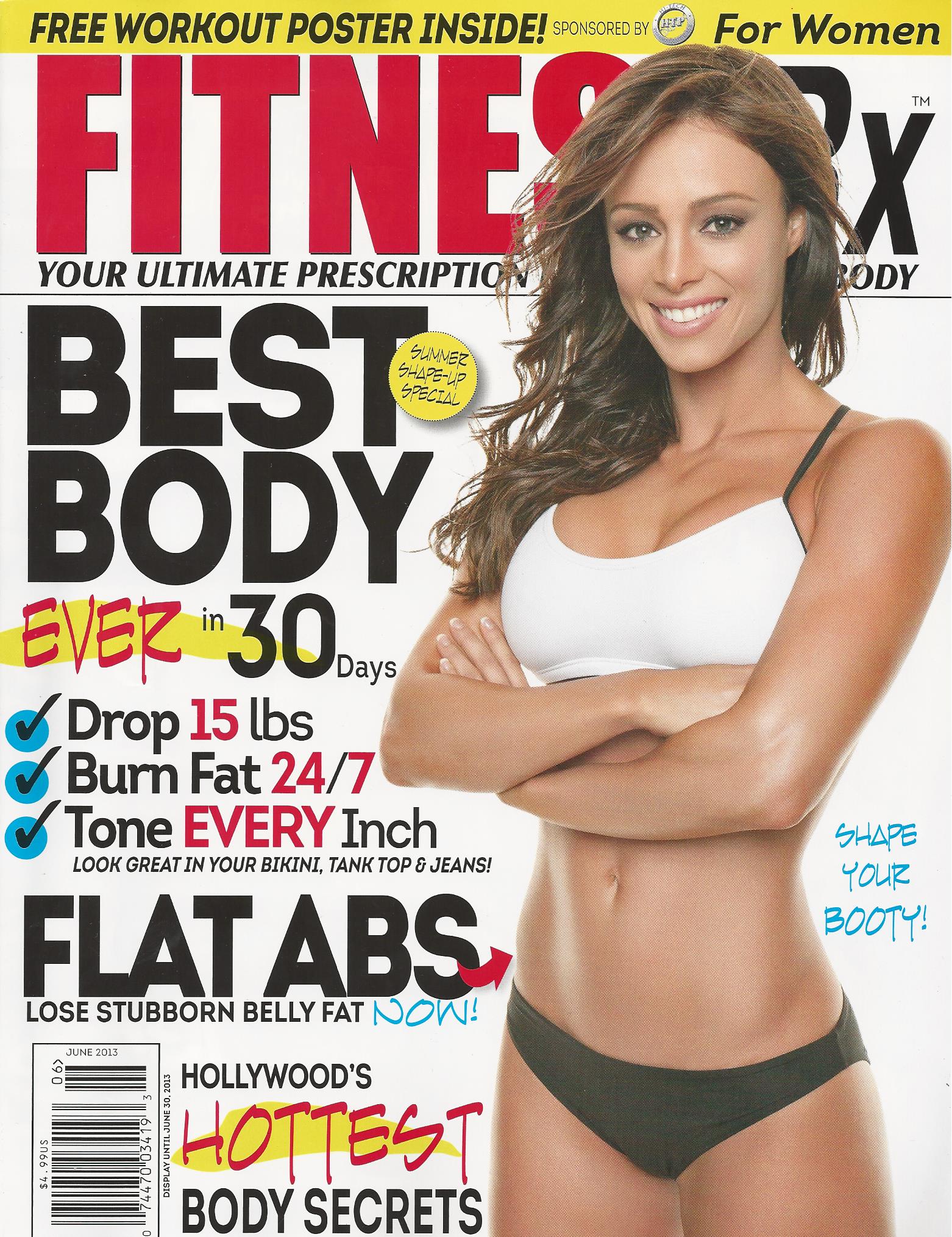 Fitness RX for Women: June 2013
"Flat Abs for Bikini Season" June cover model Juliana Daniell (IFBB Bikini Pro) is featured in this workout/food program from Fitness RX for Women that will help strengthen your core.
Tracey Anderson: Gwyneth Paltrow's BFF and fitness buddy shows off some moves from her own "Tracey Anderson Method."
"Rear View" Top bikini models India Paulino, Nathalia Melo and Nicole Nagarini talk about what they eat and how often they work out to get a shapely backside.
"Get a Knee Up on ACL Injury" With proper training you can enjoy high impact sports without injuring your knees.
"Summer's Greatest HIIT for Fat Loss" The secret to a fast calorie burn are High Intensity Interval Training (HIIT.) Word.
Check out Fitness RX for Women online here: www.fitnessrxwomen.com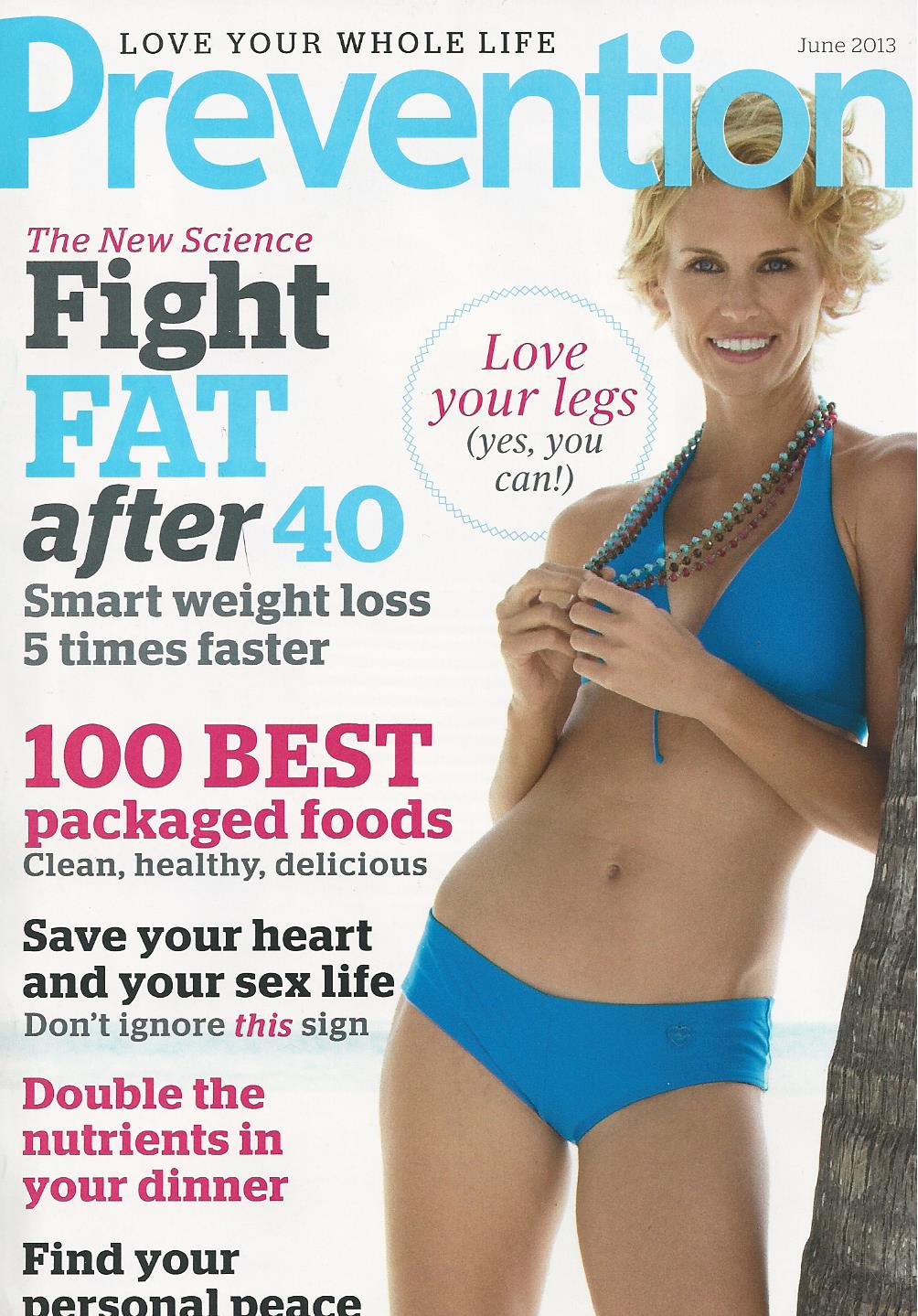 Prevention: June 2013
"Who's Happier?" Commuters? Night Owls? Older people? You have to find out by reading this article for yourself. (I did suspect Bronze finishers were happier than Silver medalists before…)
"10 Ways to Chill Out" Inexpensive ways to keep cool this summer.
"I Lost 45 Pounds and Improved My Golf Game" Busy golf pro Karen Stupples talks about how she lost weight after making a few simple changes to her diet and lifestyle.
"The Metabolism Miracle for 40+" Prevention shows how you can keep the extra pounds away over the age of 40 (when most people start to experience a slower metabolism.) Also includes a workout to help build muscle tone.
"Her Second Perfect Storm" Honestly—this was my favorite read this month. Linda Greenlaw survived the real life Perfect Storm (the sailing tragedy was made into a movie in 1997) but this tough-as-nails swordfish-boat skipper (the only female in the U.S. to have that honor) found out adopting a teenager would be the hardest challenge of her life. Check out her books here: http://www.lindagreenlawbooks.com/
"My Year of Aging Backward" Writer Lauren Kessler decided to take a year of her life and devote it to trying to become younger through exercise and science. The result is her book My Year of Hypnosis, Hormones, Dark Chocolate, and Other Adventures in the World of Anti-Aging which I just might have to get. (Here is Lauren's web site: http://laurenkessler.com/)
Check out Prevention online www.prevention.com
So that is all I have for today folks. Have you read of these magazines this month? What did you think? Let me know!
Until next time!
Ox ox,
Brooklyn Fit Chick
(BFC)
Follow me on Twitter: @BrooklynFitChik (note the spelling!)
Friend Me on Facebook: "Brooklyn FitChick"
Instagram: "brooklynfitchick"
You Tube: "BrooklynFitChick1"