What Did We Learn This Month?
 Shape: June 2013
 Shape Cover Star for June:
Britney!  Alert all of your gay friends—because the queen of Pop is on the cover of Shape and looking totally amaze balls!  Brit Brit is about to head off to Las Vegas for a two-year deal with Planet Hollywood (they are still around?) so the singer and dancer is going through her paces to get as fit as possible to put on an amazing Extravaganza every night.
Tops on her list for fun active type things to do is yoga and inside we get photos of Britney going through her favorite poses. She practices at the EQI Yoga Studio in Los Angeles with the owner Elizabeth I. (That is not a typo. Really!)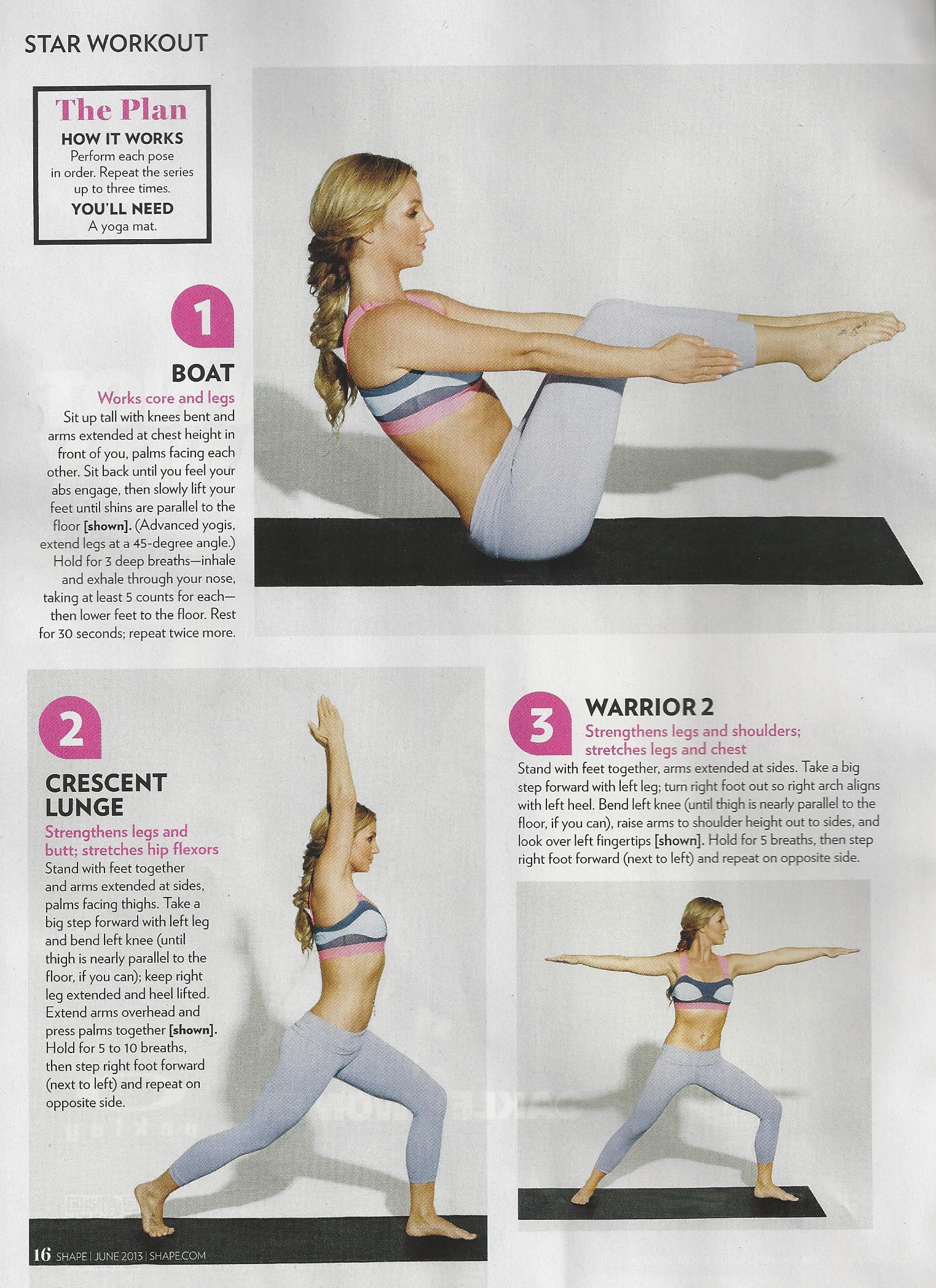 So what else is inside the June Shape?
"Team Up to Firm Up"
For those looking for a "couple's" workout—try this one from the insanely gorgeous duo Heidi & Chris Powell who starred in Extreme Makeover: Weight Loss Edition. Chris's new book it titled Choose More, Lose More for Life and is on sale now.
"Walk this Way"
Shirley Archer, author of The Walking Deck: 50 Ways to Walk Yourself Healthy shows how to get 'a serious sweat session" from a good old-fashioned powerwalk.
"Rule the Court"
Tips for you wanna be tennis pros from Mary Joe Fernandez, former singles champ and U.S. Fed Cup captain.
"Tame Your Trouble Zones"
Another fabulous workout from celebrity trainer Jillian Michaels that will help you get a hard body.
Sarah Chalke
The actress talks about how she stays in shape in spite of a busy life. (She will always be "Becky" from Roseanne to me!)
And now the rest of the best of this issue of Shape:
"Well Suited" Shape asked fashion expert Stacy London to pick the best bathing suit for every figure type.
"Nice Hotels Don't Have Bed Bugs" This month I head to Fitbloggin' and you just know that I am ripping this page out as a guide for my hotel room. (For sure!)
"Surprising Skin Savers" The latest research on the best ways to prevent skin cancer (outside of the usual "wear sunblock and stay the heck out of the sun when you can" stuff)
Follow Shape magazine online at: www.Shape.com
Overall Grade:
A  Tons of good workouts are featured and that always makes me happy. So nice to see Britney looking healthy and strong!
Have you read the June Shape yet? What was your favorite article? Let me know!
Ox ox,
Brooklyn Fit Chick
(BFC)
Follow me on Twitter: @BrooklynFitChik (note the spelling!)
"Friend" me on Facebook at "Brooklyn FitChick"
Instagram: "margodono"
You Tube: "BrooklynFitChick1"