What Did We Learn This Month?
 Fitness: July/August 2013
What Do We Learn This Month in Fitness?
"Firm Up, Slim Down"
Brian Nguyen (owner of Brik Fitness in Redondo Beach, CA) offers this workout which uses free weights to help develop muscles. Me likey!!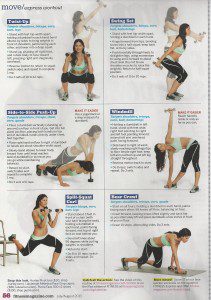 "Play it Cool"
The heat—I can NOT take this heat anymore. Now if I had some of these groovy items that promise to cool me off while working out my attitude on it might improve. (Though I can't guarantee it!)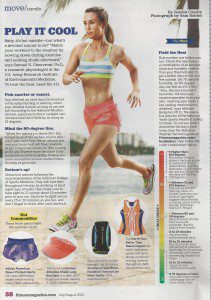 "White Out"
I am not a big tennis person (I can barely hit the ball back!) However, these skirts make me want to act all preppy and super WASP-y.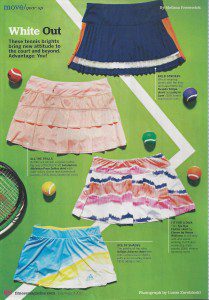 "Best Road Trip Ever"
Looking for ideas for the rest of summer to both relax and get a good sweat going? Try this feature which includes a hike I MUST try out near Philly real soon.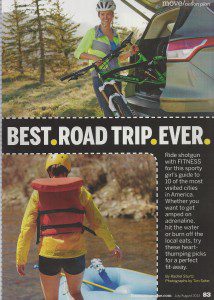 "Drive-Through Done Right"
Ever been on a road trip and had to face nonstop, lousy fast food options for your meals? (Yuck!) Fitness offers suggestions for "safe bets" to order from the top ten popular chains.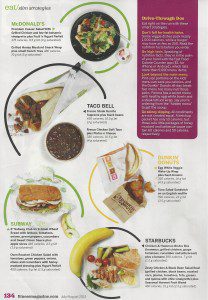 And now the rest of this issue of Fitness:
"Running in the Family" Marathoner (and writer) Alyssa Shaffer talks about learning to run with her five-year old twins.
"Workouts Gone Wrong" There are tons of people out there doing a particular workout (coughs…CrossFit…coughs) that isn't particularly a. safe or b. good for you. Get the details on what can go wrong  (with the aforementioned one as well as others) and how to avoid injury.
"Pool It" Are you one of those lucky so-and-sos who has access to a pool? I hate you! Kidding! Look at this feature for moves you can do while hanging out in your pool. (Your pool? I hate you!)
"Pour it On" If you love juice but worry about empty calories—here are some healthy options.
"Ditch the Sugar Habit" Tips on how to ditch the sweet stuff from your life.
Overall Grade:
A- Excellent read to get you through those hot summer days.
You can follow Fitness magazine at www.fitnessmagazine.com
Ox ox,
Brooklyn Fit Chick
(BFC)
Follow me on Twitter: @BrooklynFitChik (note the spelling!)
Friend me on Facebook: "Brooklyn FitChick"
Instagram: "brooklynfitchick"
You Tube: BrooklynFitChick1