What Did We Learn This Month?
 Shape: July/August 2013
Shape Cover Star for July/August:
Jillian Michaels is on the cover and looking mighty fit in a bikini. Jillian a busy mother of two young kids and knows how hard it is to fit in a workout—even just 30 minutes. Here she gives advice for staying healthy while heading out on the open road for summer vacation.
Shape also has an exclusive body sculpting routine in this issue which you can see here.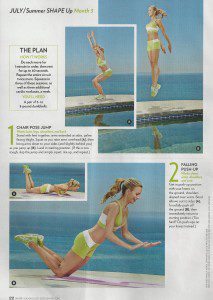 So what else is inside the July/August Shape?
"Hit Your Stride"
Do you have a Cybex machine at your gym and are not sure how to get the best workout in your lunch hour? Try out the advice here given by Angela Corcoran, director of education for Cybex.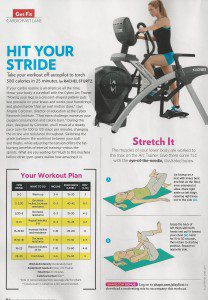 "Biceps Curl"
Jay Cardiello (http://cardiellofitness.com/) offers three types of bicep curls to get you strong and toned.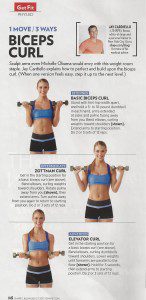 "2013 Shape Snack Awards"
Shape found the best "good-for-you noshes" that you can find at your local grocery store.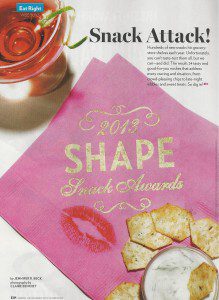 "In the Swim"
Ooh, a pool sounds so refreshing right now—doesn't it?  Here we get advice from Olympian Natalie Coughlin.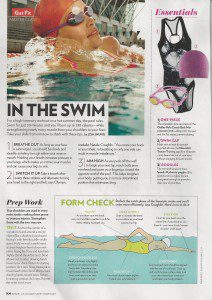 "Take a Seat"
Pull up a seat for your next workout created by Melissa Chiz of Zumba (this looks fun!)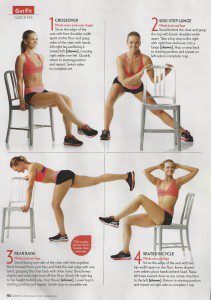 "Surf's Up!"
Jessica Bellofatto of KamaDeva Yoga in East Hampton, NY combines yoga moves with her love of surfing with the poses you see here.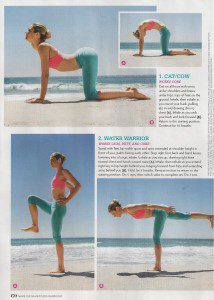 And now the rest of the best of this issue of Shape:
"Give Your Beach Bag a Checkup" Shape offers advice on how to what to pack in your tote for a fun day in the sun.
"At-Home Solutions" Lotions and potions that will make you even more gorgeous than you already are (how is THAT possible?)
"A Lifetime of Good Skin" What you need to do in your 20s, 30s and 40s to keep your complexion in top shape.
Follow Shape magazine online at: www.Shape.com
Overall Grade:
A  Lots of workouts featured here and informative article aplenty. This made me happy!
Have you read the July/August Shape yet? What was your favorite article? Let me know!
Ox ox,
Brooklyn Fit Chick
(BFC)
Follow me on Twitter: @BrooklynFitChik (note the spelling!)
"Friend" me on Facebook at "Brooklyn FitChick"
Instagram: "brooklynfitchick"
You Tube: "BrooklynFitChick1"