What Did We Learn This Month?
 Women's Health: July/August 2013
Women's Health Cover Star for July/August 2013: 
Maria Menounos who has an UNREAL body!!!! Maria is a host on the TV show EXTRA and is helping to judge the Women's Health Next Fitness Star (more on that later.) She also has a rather unique laugh that I try to recreate here in this Vlog post.
The one thing that made me sad reading her interview was that she has a cup of hot water every morning to start her day. (Sounds very depressing to me…) Anyhoo, you can see Maria and ace trainer Harley Pasternak featured in the workout inside: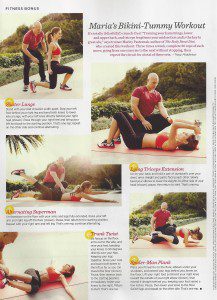 So what else is in the July/August issue of Women's Health? 
"Women's Health Next Fitness Star"
Women's Health invites you to find the next workout superstar with their very own competition—.The Next Fitness Star.com. You can check out all of the finalists in this issue.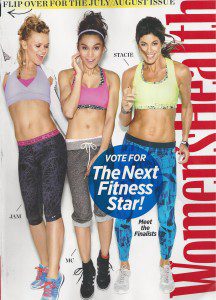 "Food For Thought"  
Can junk food actually hurt your brain activity?  Learn about the good and bad foods for your brain here.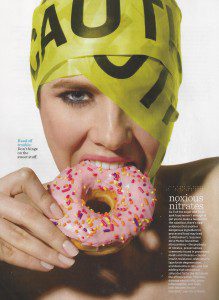 "Chilling Effect"
Cool fitness gear that will help you beat the heat. (I  am eyeing a few things on this page!)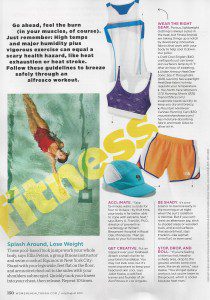 "Soap Smackdown"
It's the soap bars vs. the soap washes in this beauty smack down!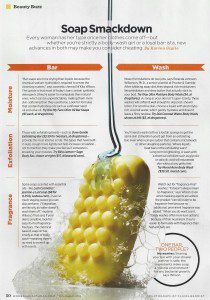 And now the rest of the best of this issue of Women's Health:
"Hydrate for Your Health" Women's Health talks about the importance of staying hydrated and "proper water consumption."
"Go with the Pro" Oh how I probiotics…
"Even if You Live at Work, It's Not Home" I really liked this article about people who overshare every single detail of their lives to everyone around them. (Boundaries, people!)
"I Survived Hurricane Sandy" Staten Island resident Kim Joyce survived the storm and has one hell of a harrowing story to tell. (Sorry about your sweet kitties Kim!)
Overall Grade:
B:  I say take this one to the beach (or by the pool) and enjoy this fun summer read. (However, I could have used more workouts.)
You can check out Women's Health online as well: www.WomensHealthMag.com
Ox Ox,
Brooklyn Fit Chick
(BFC)
Follow me on Twitter: @BrooklynFitChik (note the spelling!)
Friend me on Facebook: "Brooklyn FitChick"
Instagram: "brooklynfitchick"
You Tube: BrooklynFitChick1