Brooklyn Fit Chick Vlog Episode 49
The "I Met Milos Raonic and Venus Williams Last Week" & "On Vacation and Need New Music/Radio Station Ideas" Edition
Hey there! Hi there! Ho there!
I am on VACATION so this will be a brief post to say "hello!" and a call-to-action. I need music and radio station ideas. Really. Please send them ASAP!  Every day I seem to listen to the same radio stations online (because New York City radio is awful) and I am in need of something new in my life.
A few months ago I wrote about my current online radio playlist and while they are all still pretty great (well, KFOG is pretty terrible these days) I need MORE RADIO and MORE MUSIC suggestions.
Sooo, I am asking you all to offer me ideas and suggestions. What music gets you motivated? What are your "go-to" songs? Is there a station in your area I need to check out—please let me know and I will send a personal Brooklyn "treat" to all who help me out. Not sure what that treat will be but each and every one of you will receive one. Sounds good?
Also, in this week's post I talk about:
Here is a photo of Milos at the event (cute, eh?)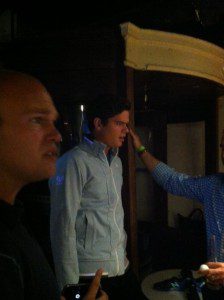 Riding (for about two minutes) with Venus Williams who was debuting her new collection at Flywheel Sports. Co-Founder Ruth Zuckerman lead our class which was a real treat for me as it is always fun to take a class by one of the industry's pioneers.
Unfortunately my camera died and my awesome pictures have disappeared from my camera (dammit!) so I will have to make do with this one shot of Venus at the pre-event who was talking to a very "pointy" reporter.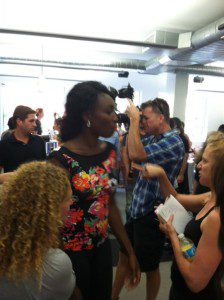 Now onto this week's Vlog post:
Okay—that is it for me today. I may or may not be posting this week here but definitely follow me on Twitter (@BrooklynFitChik) as I will be taking classes all over NYC this week. See you soon!
Ox Ox,
BFC
Brooklyn Fit Chick
Follow me on Twitter: "BrooklynFitChik" (note the spelling!)
Friend me on Facebook: "Brooklyn FitChick
Instagram: "brooklynfitchick"
You Tube: BrooklynFitChick1