What Did We Learn This Month?
 Women's Health: September 2013
Women's Health Cover Star for September 2013: 
Elizabeth Banks is on the cover of both the front and back of the magazine as this is their annual "Fall Fashion Special." Whoo hoo!
Elizabeth seems like such a warm and nice person who just happens to be a successful actress. She has been with her husband all of her adult life and they have two boys together under the age of three-wow!
Her next film will be The Hunger Games: Catching Fire which comes out in November and the trailer alone is making me giddy. (My inner 12 year-old is dying to see it!)
The interview in this issue lists "23 intriguing things" about the actress including the fact she has 1.2 million followers on Twitter (@ElizabethBanks,) is a big fan of Ruth Bader Ginsberg and stays slender by splitting  one appetizer and one entrée with her husband when they go out to eat (which completely bums me out.)
Here is a photo of Elizabeth in a New wave-inspired from the back cover.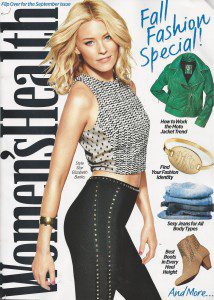 So what else is in the September issue of Women's Health? 
"Take the Women's Health Chin-Up Challenge"
Just today someone in my Bootcamp class asked me if "girls can do chin-ups"—this was from a grown woman. Grrrrr. Anyhoo, Women's Health is offering their own six-week plan. You can follow the editors on Twitter at the "ChinupChallenge" hashtag.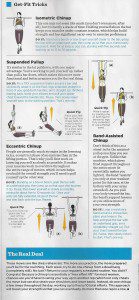 "Flour Power"  
Want to learn the difference between almond flour, quinoa flour, barley flour and more? Check out this page!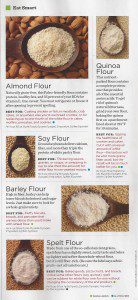 "Cardio Redifined"
Whether you love nothing more than a high-intensity aerobics or would rather lift weights—trainer Brett Hoebel has a plan here for you to get your heart beating.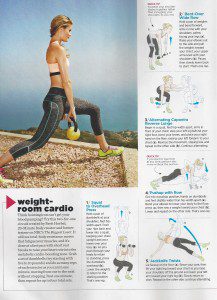 "15-Minute Workout"
Trainer Alli McKee has a workout here that will get your gams in shape.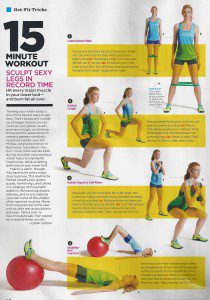 And now the rest of the best of this issue of Women's Health:
"Is Aspirin the New Wonder Drug" Women's Health looks into the benefits taking aspirin.
"Diet-Friendly Drive Thrus" Not sure I buy the concept of eating anything from a fast food place. (I worked at one when I was 16!)
"I Survived A Shipwreck at Sea" Amazing true story about a woman (Kate Suski) who survived being stranded in the ocean for over 14 hours. Yikes!
Overall Grade:
A-! So much here to enjoy though funnily enough the fashion pages were not my favorite this time. Normally I like their style pages. Oh well, maybe next month?
You can check out Women's Health online as well: www.WomensHealthMag.com
Ox ox,
Brooklyn Fit Chick
(BFC)
Follow me on Twitter: @BrooklynFitChik (note the spelling!)
Friend me on Facebook: "Brooklyn FitChick"
Instagram: "brooklynfitchick"
You Tube: BrooklynFitChick1