Brooklyn Fit Chick Vlog Episode 53:
When Did Getting Older Become a Character Flaw?
The "Mizfit Online, Sarah Silverman, SELF magazine and Confronting My Feelings on My Age" Post
Hey there! Hi there! Ho there!
How is everyone? Good, I hope! Today I want to break from my usual litany of weekly nonsense to just one single subject—getting older. This is NOT a topic that I dwell on very often and normally it is not a "thing" for me. I just happen to be one of those weirdoes who doesn't bother with "acting my age" or have "life plan" on where I want to be at different stages of my life. My attitude has been to just hop along and figure things out on my way.
However, this past week I have been hearing several disturbing stories about women either beating themselves up for acting "old" or being told they are old as part of a punch line. Sooo, this has caused me to confront some of my own insecurities which is never fun but (almost) always a useful thing. So now—let's get to gettin'.
It all started with the fabulous and amaze-balls Carla Birnberg of Mizfit Online who posted a thoughtful piece called Is Old Talk the New Fat Talk? Carla is a mom to a brilliant young girl dubbed "The Tornado" and as a gluten-free, healthy lifestyle goddess she wishes to make sure her daughter never hears the word "fat" come from her lips. Instead Carla wants her daughter to embrace the idea of being healthy & strong versus skinny. To love taking care of herself and not to see it as a chore.
But Carla noticed that she was using the word "old" in front of The Tornado much more frequently over the last few years and wondered what affect it could have on her self-image in the future? Will she fear aging or see herself as "less than" as she grows up? Really interesting stuff to ponder and it did indeed make me go "hmmm." (Shit—I am aging myself, aren't I?)
Then last night I picked up the October SELF and was prepared to make fun of it AGAIN for being hyper-focused on appealing to 20-somethings (you can find my rant about it here.) Instead,  I was delighted to see an article self-written by a 36 year-old (who hates her thighs but I will write about that some other time) plus an actual feature lamenting young women who describe themselves as "old" with no justification at all—"Fat Talk, Old Talk."
An example being: "I'm kind of an old lady. After 11, I'm like, 'Don't these kids ever get tired.' Jennifer Lawrence, 23
Trust me, as a veteran of the 20-something years, knitting and enjoying quiet time is not an age-related thing. You are not supposed to party like Miley Cyrus all day. That's how you end up NOT seeing your 30's. And if you are in your twenties—do not whine about getting old. It's tedious and makes you look like a moron.
So then my brain went in a new direction and it reminded me of a clip I saw online this past week when actress/comedian Sarah Silverman talked about her experience being the butt of ageist jokes at the Comedy Central Roast for James Franco.
I did not see the Roast but apparently Sarah was the victim of several "old" jokes during the program and very ably describes her feelings about the sexist treatment on the program Totally Biased. WTF? Sarah is old? Honestly, can you name anyone in show business who acts and exudes more youthful enthusiasm? (Man, show business sucks.)
Shaking my head.
All of this brought me back to a moment three years ago where I was at a meeting to talk about a business plan. In the proposal I was asked to include a headshot which I didn't (and still do not have) so I included a favorite photo of mine. See below.
It was taken in 2002 which I realize was a while ago but I only recently learned about my "best side" when facing a camera. The photo below is one I always thought was a nice shot of me and caught my "essence." (Sorry it is so small! It's my only version.)

The dude I met with said in an off-hand manner "when you formally hand this in, pick another picture. You don't look like this anymore."
Ouch. Oof. It was done so casually and out of the blue that I didn't tell him to piss off. I just nodded my head and laughed. But that comment really dug in. I don't look like "that" anymore. I look like "this" now.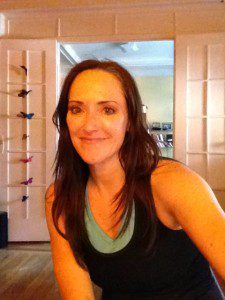 It's a nice face and I like it very much. But I know that in this culture, youth is valued and I am not considered young anymore except maybe by the Social Security office. I am not young and I am not old so my life is at a middling stage (Not middle-aged—an expression I just loathe.)
There are so many things I can do now that I could not do when I was younger. A tricep pushup, a century ride, tuck jumps—the list goes on.
But women in our society are supposed to just take all of our knowledge and experience and hide away because our beauty is starting to fade away. Why is this okay by everybody?
I am still ruminating on this topic but would love to hear your feedback. What say you? What is "old?" How do you define yourself when it comes to age? I would really love to hear your thought on the topic!
Now onto this week's Vlog post (featuring my "old" face!):
Until next time…
Ox Ox,
BFC
Brooklyn Fit Chick
Follow me on Twitter: "BrooklynFitChik" (note the spelling!)
Friend me on Facebook: "Brooklyn FitChick"
Instagram: BrooklynFitChick
You Tube: BrooklynFitChick1