What Did We Learn This Month?
 Women's Health: October 2013
Women's Health Cover Star for October 2013: 
OMG—it is P!nk!!! I love, love, love P!nk's music and play her in my classes all of the time. I love her attitude. I love her style. I just love HER!
Anyhoo—P!nk is on the cover and inside this issue where she talks about dealing with fame while being a mom to two year-old daughter Willow.
As for her favorite vices, she says "I drink really good wine and high-caliber whiskey. I probably laugh too loud in restaurants" LOVE HER!
Here is a photo of P!nk striking a pretty pose.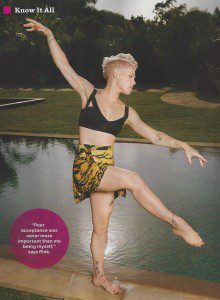 So what else is in the October issue of Women's Health? 
"5-Minute Fat Blaster"
I like these exercise ideas from Women's Health editor Jen Ator that you can find in her new book Shape-Up Shortcuts.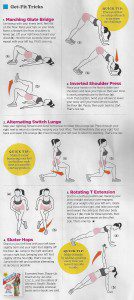 "Max Your Gym Time"
Check out the gear you SHOULD use at the gym versus the usual boring stuff. (I really want a pink sand bag by the way.)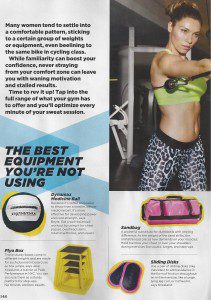 "15-Minute Workout"
Melissa Paris (a New York City-based trainer) created this workout which uses a towel. Yes, you can use your towel to get a good sweat going, people!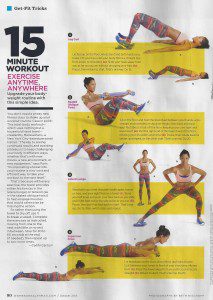 And now the rest of the best of this issue of Women's Health:
"Happy Body, Angry Skin" Women's Health talks about skin afflictions that can happen under intense exercise conditions. (Redness is a problem for me.)
"How to Outsmart Breast Cancer" October is Breast Cancer Awareness Month and Women's Health talks about the latest research so you can stack the odds in your favor.
"I Survived Plunging Into an Icy River" Do me a favor and promise me you will NOT read this story while listening to Season of the Witch by Donovan (like I did at the hair salon!) It will freak you out even more! (Glad you are okay Daniella Overett!)
What It's Like to be Stranded in a Food Desert: Women's Health takes on the issue of hunger in America and I applaud them for it. We fat-shame people left and right in this country without taking account the lack of affordable produce and really healthy food in many sections of the U.S.. (Stepping off my soap box now…)
Overall Grade:
A! Great workouts along with smart information makes me a very happy fit chick!
You can check out Women's Health online as well: www.WomensHealthMag.com
Ox Ox,
BFC
Brooklyn Fit Chick
Follow me on Twitter: "BrooklynFitChik" (note the spelling!)
Friend me on Facebook: "Brooklyn FitChick"
Instagram: BrooklynFitChick
You Tube: BrooklynFitChick1