What Did We Learn This Month?
 Shape: September 2013
Shape Cover Star for September:
"Tennis Goddess" Maria Sharapova graces the cover and she shows off all 6'2" of her bad-ass self. The Russian-born athlete still loves to play and is scheduled to appear in the U.S. Open at the time of this posting.
Maria works with trainer Yutaka Nakamura on the stability ball to get her core in shape on the courts and we get a peek at her workout here: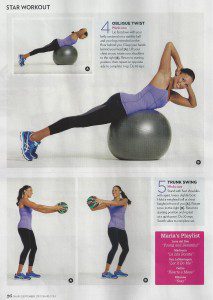 So what else is inside the September Shape?
"Power Play"
My problem with many fitness magazine these days is that they do not feature enough workouts (I am talking to you Health!) However, Shape has plenty of them and I especially liked this one from trainer Amy Bento Ross which you can adapt to any playground outside. (I am assuming you know to use a public playground and not just go into a stranger's backyard!)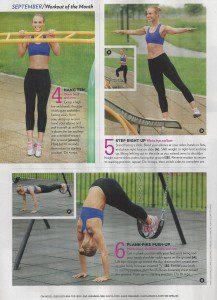 "Tabletop"
NYC-based trainer Jay Cardiello (http://cardiellofitness.com/) gives three different versions of the core defining tabletop move.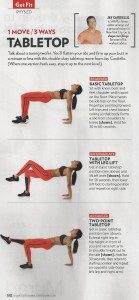 "10th Annual Shape Beauty Award"
Shape's beauty editors tried out hundreds of beauty products and picked their favorites here. Beauty products make me swoon!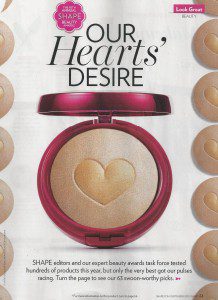 "Jump To It"
Plyometric moves are a fast way to burn calories and get your heart in top condition and trainer Stephanie Vitorino of Equinox has a quick 15-minute plan here you can do anywhere.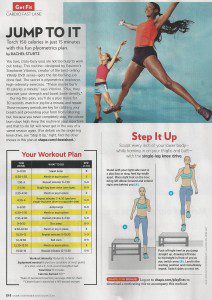 "Get 360* Sexy"
You want to work all of your major muscles groups and be sculpted all over? (Yes I do, plus the ability to fly. Anyhoo…) This workout from trainer Natalie Yko is a butt-kicker.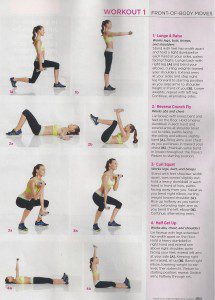 And now the rest of the best of this issue of Shape:
"It's About Time" Shape features the latest in timing gear here.
"Match Point" Probably the cutest tennis outfit ever is on page 78.
Candice Kumai: The "Stiletto Chef" talks about FWBs (Food With Benefits,) her "pantry staples" and more here.
Follow Shape magazine online at: www.Shape.com
Overall Grade:
A  Great workouts and readable features make me a happy fit chick!
Ox ox,
Brooklyn Fit Chick
(BFC)
Follow me on Twitter: @BrooklynFitChik (note the spelling!)
"Friend" me on Facebook at "Brooklyn FitChick"
Instagram: "brooklynfitchick"
You Tube: "BrooklynFitChick1"