Brooklyn Fit Chick Vlog Episode 56
Featuring: Jody of "Truth 2 Being Fit," Dealing With Internet Trolls, Teen Bullying,
 Plus: A Review of The Vegucation of Robin by Robin "Ophelia" Quivers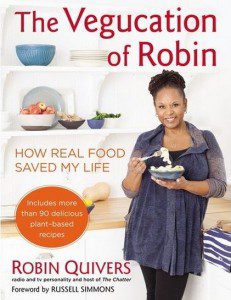 Hey there! Hi there! Ho there!
How are you fine people doing today? As I type this Blog post it is Sunday morning and I am staving off a slight hangover. Normally I teach three back-to-back classes at this time but last night I celebrated a weeeee bit too much at my friends Christina & Tom's wedding (kudos kids!) So with the quiet of my apartment and the promise of scrambled eggs & bacon for brunch in my future I am writing out my weekly post and getting ready to film my Vlog. You're welcome!
So let me get through a bit of housekeeping before we dive into today's segment.
Affordable Care Act: I am STILL trying to sign up for the Affordable Care Act. Oy vey! I managed to create a Login the first day but have not been able to get on to the site and actually sign up for anything. This is most frustrating but I will remain optimistic and persistent. And, of course, I will take you along the journey with me. (Have any of you been able to sign up yet?)
Spark People Activity Tracker: I was asked by none other than Miss Nicole Nichols herself to try out the new Spark people Activity Tracker and I have to admit that I cannot figure out how to get it to sync with my computer. Doh! If any of you can help me –please let me know. I want to review for next week! (Thanks in advance!)
Now on to This Week's Vlog Items:
Truth 2 Being Fit: If you are not familiar with the amazing Jody of the Truth 2 Being Fit Blog you should check her out now. Jody is a super fit lady in her 50s who has a build that would put most 20-somethings to shame! Jody believes in eating healthy and taking care of yourself every single day and I am a big fan of her Twitter feed and her Instagram photos "Truth2BeingFit." Jody had two exceptionally great posts lately that I wanted to share with you:
Are You Fat? Is This Fat?: Jody takes a look at internet trolls and their messed up comments that they leave on posts through Twitter and Instagram
Behind Closed Doors: Aren't you sick and tired of people blaring out their health declarations over the Internet on how they never eat "ANYTHING BUT REAL FOOD" or that they "CRUSH EVER EXCUSE NOT TO WORKOUT EVERY SINGLE DAY." There is a fine line between being encouraging and condescending. Between offering inspiration and being a braggart. None of us are perfect behind closed doors and no one assumes we are so why the pretense? Why make people feel bad because they failed to "crush" an excuse? Anyhoo—read this post and tell me what you think!
Teen Blogger Ally Del Monte. Wowza! This post from Ally Del Monte (aka "Loser Gurl") http://losergurl.com/my-story/ broke my heart. Ally has been dealing with taunts and awful remarks about her weight for years (she has Hashimoto's Thyroiditis) but a few weeks ago her world took a very dark turn when I friend of her attempted suicide.  Ally Blogs and Vlogs about her experience here plus you can read more about this remarkable woman with this feature on her from Babble.com. (We need more Ally's in the world!)
And Lastly:
My Review of "The Vegucation of Robin" by Robin Quivers (The Howard Stern Show.)
Heavy sigh—where do I begin? I guess at the beginning. About twenty years ago "The Howard Stern Show" was introduced to the Bay Area (where I went to school) and I have been listening to Howard, Robin, Fred, Baba Booey and the rest of the gang most weekday mornings ever since. My favorite segment of the show is "The News" where Howard and Robin talk about what is happening in the world and generally goof on dumb celebrities, corrupt politicians and the everyday silliness of life.
I have to say that as much I as I adore Robin and would not want to listen to the show without her—she loves to spout off about her latest New Age findings that have absolutely NOTHING to do with science or reality. Over the years I have heard her espouse the medical wonders of coffee enemas, the Master Cleanse, psychic shaman in foreign lands and "detoxing." And honestly, my attitude is if it makes you feel better than more power to you. But do no assume all people will have the same results following your plan.
Recently Robin dealt with an incredibly scary cancer scare (you can read about it here) and had to work remotely from home for over a year while she was attended to by  the expert staff at Memorial Sloan Kettering. (Trust me—if you get cancer—that is where you want to be treated. They are simply the best.)
Thankfully she is now in remission but it coincides with the release of her book The Vegucation of Robin: How Real Food Saved My Life. This is a book she has planned for years and it speaks to her belief (at the time) in the Vegan lifestyle and all of the recipes contained within.
Well, here are a few of my problems with the book:
She promotes colonics which has absolutely NO HEALTH BENEFITS WHATSOEVER. Honestly, after all of these years she is still promoting this crap (pardon the pun.) If she was so clean and detoxified from it—then why did she get cancer?
Her complete mistrust of doctors and "Western Medicine" when the very reason she is alive is because Howard made her see cancer specialist at Memorial Sloan Kettering. The woman is a former nurse but did not visit with a gynecologist for several years. A regular checkup might have caught the cancer much sooner had she bothered to take care of herself sensibly.
 She still promotes the horrible, awful, contemptible "Master Cleanse" which basically starves the body of nutrients for weeks and then encourages binge eating once you are "detoxified." This stuff is utter f***ing nonsense and she knows it but is too proud to say she was wrong. (Bad advice that can exasperate an eating disorder, Robin!)
Robin does not eat many of the recipes in her book because she now follows and grain-free, soy-free and fruit-free diet on top of being a vegan. (Honestly—if you do not completely follow the lifestyle contained in the pages you should not promote the book.)
Whew—that is a lot for me to type out today. Check out my Vlog below for a little more about my thoughts this week:
Thank you all as always for taking the time to listen to me. And let me know your thoughts about body image, celebrity
Until next time…
Ox Ox,
BFC
Brooklyn Fit Chick
Follow me on Twitter: "BrooklynFitChik" (note the spelling!)
Friend me on Facebook: "Brooklyn FitChick"
Instagram: BrooklynFitChick
Pinterest: BrooklynFitChick
You Tube: BrooklynFitChick1