Brooklyn Fit Chick Vlog Episode 57
Featuring: Finding a New Guilty Pleasure and Introducing My Super-Groovy Jaybird Wireless Ear Buds Giveaway
Hey there! Hi there! Ho there!
I am on a bit of a time crunch this week so I am keeping my post short and sweet this week. However, what I am lacking in verbiage I am more than making up for with a fantastic giveaway for one of you lucky readers. Best news of all—this giveaway is open to residents of both United States and Canada—whoo hoo!!
So let me dive into my one big topic I want to discuss today (guilty pleasures) and then I will offer the details for the Jaybird Freedom Sprint Secure Fit Wireless Buds that retail for $129.
It's been quite the week in news I must say. First we had a fit blogger/trainer who was accused of being a bully by posing with her three young boys and saying "What's Your Excuse?" in her photo.
THEN Kate Middleton showed off her lean frame three months after giving  birth by swatting around a volleyball (that's what it is called, right?) in high wedge heels. Honestly, what the hell kind of pressure are we putting on ourselves when images like this keep showing up in the media!
I am sensitive to how women are portrayed in the media and am so grateful for all of my fellow bloggers who write about living healthy lives and not obsessing about thinness or good looks. Which leads me to my guilty pleasure…
"What Makes for a Guilty Pleasure?"
Generally my attitude is whatever makes you happy (and doesn't hurt anyone else) enjoy it thoroughly and do not worry about what others think. Life is too short! However, we all have a "thing" we like and enjoy but know we probably shouldn't. That even though it may be harmless—it doesn't make our life better and we most likely would be much better off without it.
This past week one of my secret favorite shows, The Dallas Cowboys Cheerleaders: Making the Team (DCC) aired an episode that filled me with sadness and made me finally "break up" with them.
Background: The DCC has been on the air for a few seasons now and basically it is a reality show that follows a group of young women who try out to make the Dallas Cowboy Cheerleaders team. The stakes are pretty high for these gals. If you make the team you are considered a rock star in the Dallas-Fort Worth area (and to a world of football-loving dudes) and get to travel the world making appearances. But you MUST fit in the uniform. And buy fit—I mean you BETTER be tall and skinny. (Sorry—the DCC coaches say "toned" instead of skinny but we know what they mean.)
I have never been a cheerleader and would always rather be participating in the game than watching on the sidelines.  But I really admire the tenacity of these women to show up for an audition against hundreds of able competitors and dance their hearts out to make it.
This past week focused on a contestant named Vivian who was petite and gorgeous. She could dance like a disco diva and had a smile that can light up a room.  Vivian was also a  fan favorite who was voted into training camp by a legion of online Dallas cowboys devotees even though the overseers of the DCC training camp labeled Vivian as "stumpy" and felt she should lose 8 pounds before being able to properly don the uniform. Honestly folks—I do not get it. This is Vivian (in the center):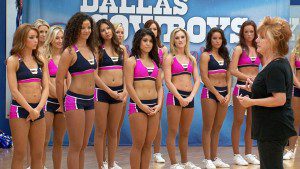 How gorgeous is she? I work out every day and I do not have a flat tummy like that! I know the world isn't fair and the standards for the DCC are very strict but watching Vivian get cut from the squad broke my heart. I think I am going to have to stop following this show.
Sooooo, now I am in need of a new guilty pleasure. What do you watch to make your eye-holes happy and your brain just bubble with delightful non-activity? Send those suggestions my way! (Please!)
And Now My Super-Duper Jaybird Wireless Ear Buds Giveaway:
So are you NOW ready to win some ear buds? This week's giveaway is a pair of headphones from Jaybird and the contest starts from Sunday, October 20, 2013 and will end Monday, October 28, 2013 at NOON eastern time.
Note—I am NOT being paid by Jaybird to host this contest. This is my gift to you my loyal readers and You Tube audience—you're welcome!
Here are the details about the winning item:
Freedom Sprint is tuned with emphasis on sub-bass, while reducing the listener fatigue ranges of mids and extreme treble. The result, warm thumpy beats that let you crank up the music without experiencing listener fatigue common in extended headphone use during lengthy workout sessions at higher volume levels. Keep your music motivating you, not distracting you. Eliminate listener fatigue.
On-ear controls offer quick, confident commands so you can focus and get the most from your workout. Get in – get out.
Freedom Sprint offers an enhanced microphone and microphone chamber design for clearer calls.
Got that? Now, in order to win a (United States & Canada only!) you must do the following:
Post a comment below (on this particular blog post).
Tweet out your interest by saying "I want to stay fit with @JayBirdSport Freedom Sprint headphones from @BrooklynFitChik"
Use the hashtag "POWERYOURPASSION"
Subscribe to my You Tube channel here (let me know if you are already subscribed!) http://www.youtube.com/user/BrooklynFitChick1
Enter as many times as you like! I will pick the winner next Monday, October 28th at NOON eastern time and contact them directly. Good luck!
Until next time…
Ox Ox,
BFC
Brooklyn Fit Chick
Follow me on Twitter: "BrooklynFitChik" (note the spelling!)
Friend me on Facebook: "Brooklyn FitChick"
Instagram: BrooklynFitChick
Pinterest: BrooklynFitChick
You Tube: BrooklynFitChick1