Brooklyn Fit Chick Vlog Episode 58
Featuring: Things That Are Making Me Happy This Week
(Including Bitch Cakes, Fit Bottomed Girls, Howard & Beth Stern and Oxygen magazine)
Planning a NYC Potluck Brunch (November 2nd!)
and My Review of Spark Activity Tracker

Hey there! Hi there! Ho there!
This past week has been crazy busy for me filled with meetings, teaching classes, going to press events and checking in with old friends visiting NYC. These are the very things that make me happy and I am feeling extra blessed lately. (Thank you all for being a part of my life!)
So today I want to give "shout outs" that are making me happy this week including the planning of my first "NYC Healthy Blogger Brunch" and my review of the Spark Activity Tracker  from  the folks at Spark People. So let's get to it, shall we?
What Makes a Brooklyn Fit Chick Happy?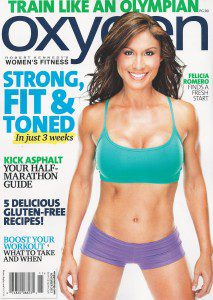 NYC Healthy Bloggers Potluck Brunch!
Also, this past week I decided to open my domicile to a Healthy Bloggers Brunch. Soooo—if you are based in NYC and would be free on Saturday, November 2nd at about 1 pm in Brooklyn—be sure to let me know! I am working on getting a couple of sponsors for the goodie bags and will need an accurate head count. Just leave a comment below and I will e-mail the details. Bring a dish and enjoy time with some fellow fit-minded peeps!
Spark Activity Tracker: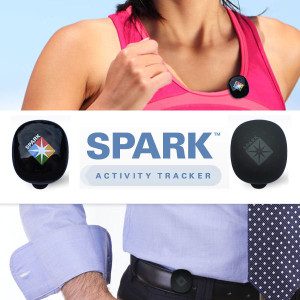 (Quick disclaimer: I was supplied the product free of charge from Spark People and not compensated for this review. The opinions are my own and based on my experience with the item.)
Finally—I received the Spark Activity Tracker a few weeks ago from Coach Nicole Nichols herself (not that I am bragging or anything…) and am in LOVE with it! I have tried different kinds of tracking systems in the past but found them to be too big and clunky to use on an everyday basis.
The Spark Activity Tracker is a combination effort of Spark People (which is the largest online weight-loss and fitness community) with FitLinxx to create this tiny, portable battery operated device that you can attach to your sneaker, bra strap or waist band to track steps, calories burned, distanced achieved and total activity time. Some of its best features include:
Waterproof to 100 feet (safe for swimming)
No charging required—you simply replace the battery in about six months' time
It automatically figures out the difference between a casual stroll and a hard workout.
It syncs automatically via a UB dongle
It's only $59.95 and is available on Spark People's site as well as on Amazon.com.
What else can I say? This a product of great value if you are interested in tracking your fitness results and would be a perfect gift for anyone in your life who loves workout-related gadgets.
Want more? Check out my Vlog post today!
That's all I have for today. I will be here all week with magazine reviews, workout playlists and giveaways. Y'all come back now, ya hear?
Until next time…
Ox Ox,
BFC
Brooklyn Fit Chick
Follow me on Twitter: "BrooklynFitChik" (note the spelling!)
Friend me on Facebook: "Brooklyn FitChick"
Instagram: BrooklynFitChick
Pinterest: BrooklynFitChick
You Tube: BrooklynFitChick1