What Did We Learn This Month?
 Shape: October 2013
Shape Cover Star for October:
Kelly Rowland is on the cover and she is showing off her buff bod that comes courtesy of her bad-ass trainer Jeanette Jenkins. The two partnered on a workout DVD Sexy Abs Cardio Sculpt that you can catch a glimpse of  here:

Check out these core moves with Ms. Rowland playing the role of model.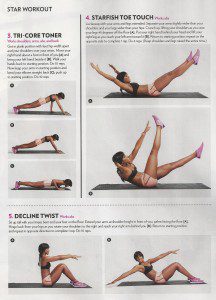 "Pump it Up"
Try these moves from Crunch trainer Carol Johnson ("Stiletto Strength") to get your legs and core in top shape for your sexy heels. (Like my new Kate Spade's pumps!)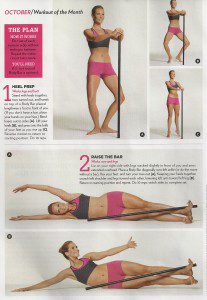 "Power Those Miles"
Strength training exercises from ACE exercise physiologist Mark Kelly Ph.D. that will help all of you runners gain power.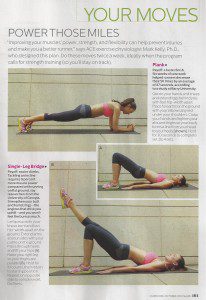 "Julianne Moore"
The flawless actress and author will star in the remake of Carrie this month and I CANNOT WAIT to see it.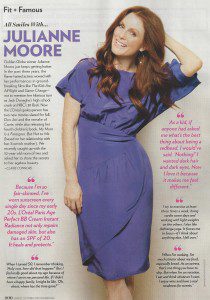 "Suited to Cycle"
OMG—I love this page that is filled to the damn brim with cute cycling gear! (Be still my beating heart.)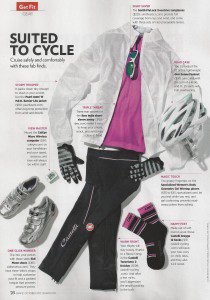 "Get Ready to Row!"
Rowing is catching on in gyms across the country. Try this workout from LA-based trainer Jay Blahnik that will increase your upper body strength and will get your heart pumping.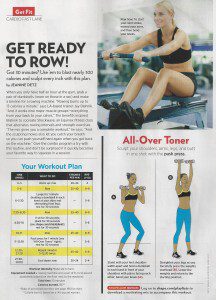 "Hot Wheels: Burn 650 Calories Per Hour"
If you want to get shapely legs while enjoying the great outdoors—get on a bike dammit! (Cycling has changed my life so I am a bit of an evangelist…) Before putting pedal to the metal check out these tips from APEX Coaching expert Neal Henderson.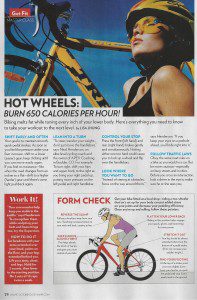 And now the rest of the best of this issue of Shape:
"1-Move/3-Ways Push-Up" Shape asked trainer Jay Cardiello to show how to work your way up to an awesome push-up.
"The Skinny on Bulk Candy" Candy—–yuuuuuuuuuuuuuuuum. (page 104)
"Juice Joints" Are you into juicing? Check out the reviews here for some of the best-known juice joints in the U.S.
Follow Shape magazine online at: www.Shape.com
Overall Grade:
A  Lots of great workouts , beauty & fashion stories and yummy recipes. This issue made me smile.
Ox Ox,
BFC
Brooklyn Fit Chick
Follow me on Twitter: "BrooklynFitChik" (note the spelling!)
Friend me on Facebook: "Brooklyn FitChick"
Instagram: BrooklynFitChick
You Tube: BrooklynFitChick1