What Did We Learn This Month?
 Women's Health: November 2013
 Women's Health Cover Star for November 2013: 
Carrie Underwood whom I just discovered as a kickass singer whose songs are now completely filling up my iPod. Not to sound like a total rock-centric snob but I never really "got" country/pop before but I am becoming a big fan of hers. (Honestly—Before He Cheats totally rules!!!)
Carrie keeps in shape by sticking with a vegan diet and working out as often as she can on the road. She  also loves animals and took care of a stray dog last year. (Yay! Carrie!)
Carrie "Favorite Things" include:
Coconut Oil
Ezekiel Bread
Better'N Peanut Butter
Hot Yoga
 So what else is in the November issue of Women's Health? 
"15-Minute Fat Blaster"
B.J. Gaddour, CEO of StreamFit.com produced this workout which can be done in 15 or 30 minutes should you want a quick butt-kicker.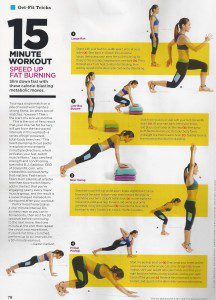 "Take Yourself for a Ride"  
Have you thought about taking a spin class but wasn't sure on how to set up your bike? Try out this articles which features tips and a workout plan from Soul Cycle instructor Stacey Griffith.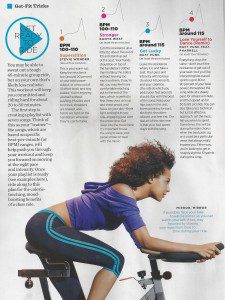 "The New Tome-At-Home Pilates"
The amazing Brooke Siler of re:Ab Pilates studio in New York shows how adding bands can really add to your Pilates workout. Brooke is the author of The Women's Health Big Book of Pilates.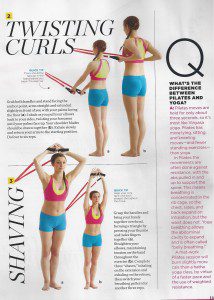 "The Flat-Tummy Foods"
The foods you eat that can help with belly bloating as well as  the stuff that will make you feel like you have a beer gut all of the time.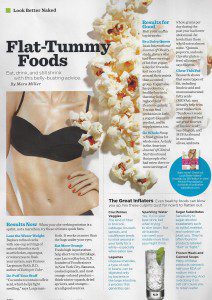 "Supermarket Stars"
The next time you hit the grocery store—bring along this guide to find out the healthiest options for:
Fitness Fuel
Recovery Foods
A.M. Kick-Starters
Grab-and-Go Eats
Lunchtime Picks
Caffeine Champs
Supper Shortcuts
Nibbles and Noshes
Flavor Boosters
Sweet Successes
(Great—now I am hungry…off to look for nibbles to nosh…)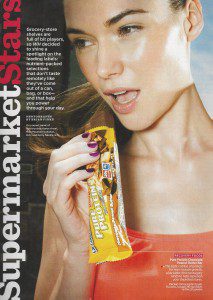 And now the rest of the best of this issue of Women's Health:
"Sneakers Go Chic" Women's Health shows how fashion and comfy shoes can go together.
"You're Sick—Now What?" Whatever your sickly symptoms—look at this guide on how to get on the path to wellness ASAP. (And if you are really, REALLY sick—keep your butt home and away from the rest of us! Sheesh!)
"Thanksgiving with a Twist" Healthy and tasty Turkey Day recipes are featured here
"I Survived Being Stabbed" Women's Health has this personal essay from Angela Champagne-From who really did live through an attack on her life by a knife-wielding, would-be kidnapper in a Minneapolis garage. Whoa!!
Naya Rivera: The Glee star models in a fashion story that is all about yummy knits and clothes that give me the "happies." (I love autumn ware!)
Overall Grade:
A  Really strong issue with beauty, fashion and lots of workout advice. Loved!
You can check out Women's Health online as well: www.WomensHealthMag.com 
Ox Ox,
BFC
Brooklyn Fit Chick
Follow me on Twitter: "BrooklynFitChik" (note the spelling!)
Facebook: "Brooklyn FitChick"
Instagram: BrooklynFitChick
Pinterest: BrooklynFitChick
You Tube: BrooklynFitChick1