What Did We Learn This Month?
 Shape: November 2013
Shape Cover Star for November:
A friend of a friend of mine met Kate Hudson once a few years before her breakout performance in the Cameron Crowe film Almost Famous and said Kate was absolutely the sweetest, most down-to-earth person ever.  I always think about that when I read interviews with the actress as she seems like she would be a cool, chill BFF.
Kate is the mother of two young boys, engaged to singer Matt Bellamy of Muse and has her own workout line Fabletics hitting the market. Meaning she doesn't exactly have all of the time in the world to work out. Luckily the actress has a dancing background and fits in as much Pilates as she can into her busy schedule.
"Drop the Weights"
You don't need a set of dumbbells to work your muscles—try some of these moves from trainer Jessica Rucker.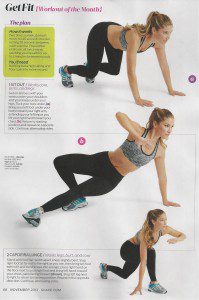 "Splash & Dash"
Water-based running is easier on your joints while also providing excellent cardio exercise. So if you have access to a pool—check out this workout plan designed by Bernard Baski.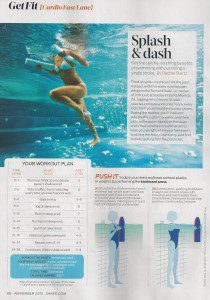 "Heavy Lifting"
If you are looking for some cute gear to wear to CrossFit (not that it is a "cute" workout, mind you) then check out the offerings on this page.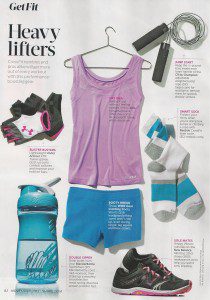 "Raise the Barre"
A NYC-based ballerina (Mary Helen Bowers) teaches Ballet Beautiful and shows how to perform a perfect "arabesque lift" and "swan arms" in this feature.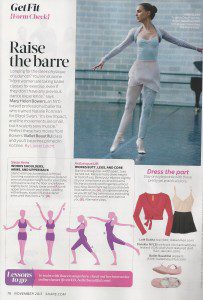 And now the rest of the best of this issue of Shape:
"1-Move/3-Ways Push-Up" Shape top trainer Jay Cardiello shows how to "perfect and build upon" your bridge.
"Flu Shot Excuses–Busted" Everyone—please get your flu shots!
"Dream it, Do it…" One of my big, big goals in life is to master the yoga "Crow" pose and it is just one of the fitness goals mentioned in this article that you can master with the right kind of practice.
Follow Shape magazine online at: www.Shape.com
Overall Grade:
A  Fantastic workouts plus string features made this a great issue for me. Thumbs up!
Ox Ox,
BFC
Brooklyn Fit Chick
Follow me on Twitter: "BrooklynFitChik" (note the spelling!)
"Like" My Facebook Page
Instagram: BrooklynFitChick
You Tube: BrooklynFitChick1