What Did We Learn This Month?
 Fitness: November/December 2013
What Do We Learn This Month in Fitness?
Padma Lakshmi
The impossibly stunning host of Bravo's Top Chef graces the cover of the November/December issue and she gives fitness the inside dirt on her dining career. While filming episodes of the top-rated culinary series the former model admits that all of the sampling and tasting can cause her to gain 15 pounds per season. So how does she take it off when filming is done? She follows a clean diet meaning "no meats, no sweets, no alcohol, no cheese, no fried foods, no wheat."
Padma also talks about staying fit for her three year-old daughter and shares her own recipe for spinach and plum salad. (Nom nom!)
"Shortcut to a Sexy Back"
The very blonde and very shimmery Tracy Anderson (trainer of Gwyneth Paltrow among other glamazons) offers this pretty cool workout to help get your back and rear get in shape. (Be prepared to use light weights and do high reps!)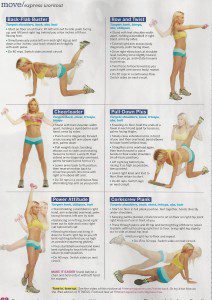 "Bright Ideas"
Is everyone ready for a fun, colorful holiday gift guide? Me, me me! (I want that "Queen of the Mountain Jacket" from Athleta if anyone out there cares to know. Anyone, anyone?)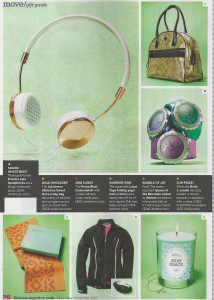 "Go With the Flow"
Celebrity trainer Brett Hoebel (The Biggest Loser, Season 11) is a big fan of the Brazilian martial art Capoeira (I only know that from interviewing him for Fit Bottomed Girls!) Here he offers slight adjustments to those very dance-y/boxer-y moves to help get you in fighting shape.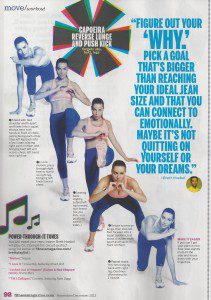 And now the rest of this issue of Fitness:
"Outrun Danger" Yikes! Be careful people! You can be a top athlete (like triathlete Jenny Fletcher featured in this story) and have blood clot issues. Here we get tips on the symptoms of blood clots and how to prevent them.
"Pay Fit Forward" Awwww, these stories of fit women inspiring one another to get healthy made me really happy.
"Rise and Shine!" One year ago I committed to getting more sleep every night and it has changed my life. Fitness offers their own tips and advice on how to get a few more ZZZ's.
Overall Grade:
A- Can't wait to see you all in 2014! (Oh no—is it that just around the corner?!)
You can follow Fitness magazine at www.fitnessmagazine.com
Ox Ox,
BFC
Brooklyn Fit Chick
Follow me on Twitter: "BrooklynFitChik" (note the spelling!)
Friend me on Facebook: "Brooklyn FitChick"
Instagram: BrooklynFitChick
You Tube: BrooklynFitChick1
Pinterest: Brooklyn Fit Chick