What Did We Learn This Month?
 Shape: December 2013
Shape Cover Star for December:
Mary J. Blige brings the fabulous and allows "no drama" as she shows off her strong & sexy physique in the December issue. Mary has just released her Christmas album A Mary Christmas. (Shouldn't it have been A Very Mary Christmas? Oh well.)
Anyhoo—Mary J. keeps in shape by running (outdoors when she can,) swimming (she just learned!) and kettlebells and we get a looksee at her doing just that. Trainer is JR Allen of 2 Day Be Fit.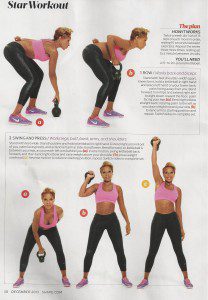 "Have a Quickie"
So we are all too damn busy for words and fitting in a workout can be challenging but have no fear—Janet Lee gives these challenging full body workouts that can be done in just five minutes.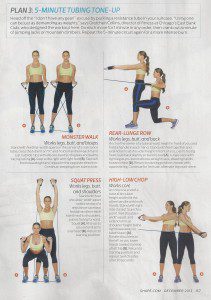 "Cinch an Inch"
If you are looking for moves to make your core stronger than check out the three version of a side plank from trainer Jay Cardiello.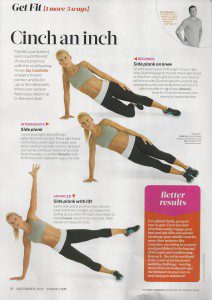 "Yoga Made Perfect"
One of my New Year's resolutions is to get in more yoga into my workout routine. Chrissy Carter of Yoga Works shows us here how to improve our form with three poses.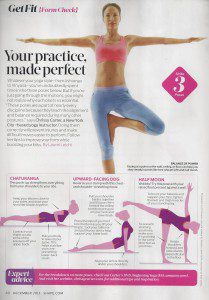 "Workout of the Month"
Are you ready to get your arms & upper body into their best shape? Try out this workout from Jennifer Cohen who created the Weight Watchers: 15-Minute Boot Camp DVDs.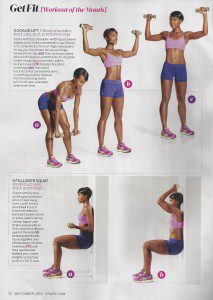 And now the rest of the best of this issue of Shape:
"The Skinny on Flavored Popcorn" Oooh—I have not had popcorn in over a year but now I WANT!
Katie Cassidy: The actress and Blogger talks about how she stays in shape and keeps sane in show business. (Her dad is David Cassidy—aka Keith Partridge!)
Follow Shape magazine online at: www.Shape.com
Overall Grade:
B+ Plenty of great workouts are featured plus good information on how to stay healthy during the holidays.
Until next time…
Ox Ox,
BFC
Brooklyn Fit Chick
Follow me on Twitter: "BrooklynFitChik" (note the spelling!)
Instagram: BrooklynFitChick
Pinterest: BrooklynFitChick
You Tube: BrooklynFitChick1