Brooklyn Fit Chick Vlog Episode 63
Featuring: Latest Book/Movies Reviews, A Christmas Tree
Plus: Weight Watchers DVD Giveaway & Kittens!
Hey there! Hi there! Ho there!
Now on to this week's Vlog & My Groovy Giveaway!!
Last week I took off from midday Wednesday until today (Sunday afternoon) with the intention of taking fitness classes in the city, setting up a whole slew of Blog posts for December and cleaning out my office which is a nightmare of disorganization and mess right now. But alas, my little introverted inner self decided instead I needed to REST and RELAX for a few days and just do a whole lot of nuthin'.
First, I decided to put on my Christmas tree because the guys who sell them across the street from my apartment (really!) set up early this year. What do you think?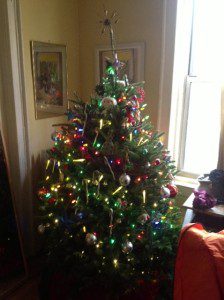 THEN I made sure to relax with the following bits of entertainment.
Books:
As you can see I am in need of some light-hearted books to check out in December so feel free to send me your suggestions. Thanks!
Also this past long weekend I checked out a few movies and here is my quick summary of each:
CBGB: If you think it is impossible to make a decent movie about The Ramones—you are correct.
Man of Steel: If you think there have been too many Superman movies—you are right. (I love you Amy Adams but Lois Lane you are NOT.)
Gravity: If you think that George Clooney and Sandra Bullock are impossibly charismatic and can overcome a weak script based on charm and excellent 3D effects—yup.
Lastly—I am late getting this post up because I played with a pile of kittens today. OMG they were SO CUTE!!!! Here is a picture of one of them with half of this week's giveaway (and one very sad-looking shoe box.)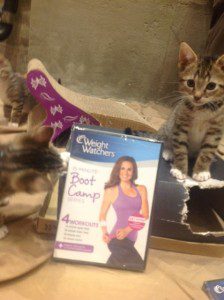 So let's get to the Vlog now!
Now let us get to this week's giveaway!!!! Here are the details of the Weight Watchers DVDs:
Weight Watchers® Makes it Easy to Get a Workout Right at Home!
Two NEW Workout DVDs Coming to Stores Nationwide in December!
Beverly Hills, CA – Weight Watchers, the world's leading provider of weight management services, now helps to make home fitness a snap with new workouts for all fitness levels from Anchor Bay Entertainment. Coming to stores, and Amazon, in December are two new DVDs starring Weight Watchers' fitness spokesperson Jennifer Cohen. These will be the first DVDs sold outside of their centers. Both "Weight Watchers: 15 Minute Boot Camp Series" and "Weight Watchers: Ultimate Belly Series" offer creative, yet easy to follow moves geared to burn calories, strengthen muscles and enhance weight loss efforts whether one is a Weight Watchers member or not. The DVDs will be available beginning December 17, 2013 and will have a suggested retail price of $14.98 each. These DVDs feature three women on camera, each demonstrating moves for beginner, intermediate and advanced exercisers to follow. Each DVD provides menu options for quick, targeted workouts or one complete program.
"Weight Watchers: 15 Minute Boot Camp Series" is finely tuned to help busy people reach their fitness goals. The four 15-minute workout segments target upper body, lower body, core and cardio. Each utilizes compound moves giving the user even more bang for their workout minute. Each segment includes its own warm-up and cool-down. Light hand weights (three to five pounds each) are used for the intermediate and advanced levels.
"Weight Watchers: Ultimate Belly Series" includes three complete abdominal workouts, each with options for each fitness level.  Choose from 10-Minute Ab Toner, 20-Minute Ab Flattening Express, or 30-Minute Standing Tone & Burn. Cohen's creative exercises work the abs from every angle, front to back and side to side. A strong core isn't just about flatter abs. It has impact on posture, back health and more.
Jennifer Cohen is a leading fitness authority, TV personality, best-selling author, and entrepreneur known for her signature straight-talking approach to wellness. Jennifer was the featured trainer on The CW's Shedding for the Wedding, mentoring the contestants' to lose hundreds of pounds before their big day.  Jennifer appears regularly on NBC's "Today Show", "Extra", "The Doctors" and "Good Morning America". When not travelling to motivate others, Jennifer spends time training her baby son Dylan at her own fitness studio, Momentum in Santa Monica, California.
In order to win these DVDs (Continental U.S. only!) you must do the following:
Post a comment below (on this particular blog post).
Tweet out your interest by saying "I want to win @weightwatchers DVD @AnchorBayEnt from @BrooklynFitChik"
Subscribe to my You Tube here (let me know if you are already subscribed!) http://www.youtube.com/user/BrooklynFitChick1
I will randomly pick one winner for both DVDs next Monday, December 9th at NOON eastern time and contact them directly. Good luck and enter as often as you like!
Until next time…
Ox Ox,
BFC
Brooklyn Fit Chick
Follow me on Twitter: "BrooklynFitChik" (note the spelling!)
Instagram: BrooklynFitChick
Pinterest: BrooklynFitChick
You Tube: BrooklynFitChick1