Brooklyn Fit Chick DVD Giveaway!
WOMEN'S HEALTH MAGAZINE'S FIRST EVER FITNESS DVD SERIES
Tighten + Tone Your Entire Body with "Next Fitness Star" Competition Winner Stacie Clark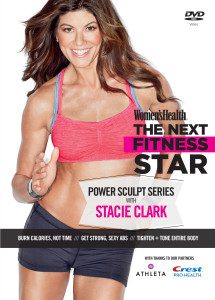 Hey there! Hi there! Ho there!
It's a snow day here in New York City and I (like many people out there I am guessing) will choose to workout at home tonight rather than deal with the ice & snow. So if you are in the market to try out a new DVD (or how about winning one?) then check out my giveaway for this week.
I am giving away to one random winner (who follows my rules below) the Women's Health The Next Fitness Star: Power Sculpt Series with the magazine's first winner of their annual "The Next Fitness Star" competition–Stacie Clark. (Disclaimer: Women's Health is providing the giveaway item and this is not a paid sponsorship.)
Here are the details of the DVD:
WOMEN'S HEALTH MAGAZINE'S FIRST EVER FITNESS DVD SERIES ON SALE NOW
HTTP://WWW.DVD.THENEXTFITNESSSTAR.COM/PR
Tighten + Tone Your Entire Body with "Next Fitness Star" Competition Winner Stacie Clark
January 8, 2014—New York, NY—Women's Health Magazine, the fastest-growing international women's lifestyle and wellness magazine, today announces the launch of the NEXT FITNESS STAR:  POWER SCULPT DVD SERIES with certified trainer Stacie Clark ($27.95, http://www.dvd.thenextfitnessstar.com/pr).
The NEXT FITNESS STAR: POWER SCULPT SERIES, produced by parent company Rodale Inc., will feature four original workouts developed by Stacie Clark designed to combine strength training and cardio into a super-efficient routine that doesn't leave one second wasted.  Each method is proven to not only rev up your metabolism, but it will keep you elevated and burning calories throughout the day. The POWER SCULPT method is based on timed intervals, with the goal to improve and expand upon each workout—increasing one or two more reps of an exercise, using heavier weights, or moving to the harder modification on a move.
Stacie Clark was discovered by Women's Health through a nationwide search for "The Next Fitness Star." Among thousands of applicants, she was awarded the title live on NBC's TODAY to develop this original DVD series appear in the Jan/Feb issue of Women's Health and be a new face of fitness for the brand.
The POWER SCULPT SERIES includes:
10-Minute Belly Melt: Designed to target your entire core, this workout consists of 10 exercises performed for 60 seconds each. You'll get the "six-pack" effect, and you'll feel great.
15-Minute Speed Shred: Tighten, tone and torch your entire body.
20-Minute Metabolic Boost: It's all about timed-interval supersets. The result? Maximize your time, burn fat and tone all over.
30-Minute Total-Body Blast: We'll alternate between upper and lower body moves, keeping your heart rate up to maximize calorie burn and build lean muscle. Bonus for you? A strong core & butt burner to complete the workout.
"It won't be easy. You'll work hard. You'll push yourself to your limit," says Women's Health Fitness Star, Stacie Clark. "But we're in it together and when done with POWER SCULPT, you will feel stronger, more confident and be one step closer to having the body you've always wanted." Fashion director-turned-certified athletic trainer, Stacie Clark, 40, knows exactly what it takes to work toward a goal and succeed. With over 15 years of experience in fitness and athletic development from youth to adult, Clark's focus is on individual and group training, encompassing the fundamentals of functional bodyweight training and athleticism  including agility, balance, coordination, strength, speed, stamina, power, and flexibility.
WOMEN'S HEALTH NEXT FITNESS STAR: POWER SCUPLT DVD SERIES
Available at www.thenextfitnessstar.com; TWITTER/Facebook @womenshealthmag
 About Women's Health: (www.womenshealthmag.com) Women's Health propels 22 million consumers into action, providing the motivation and the inspiration for them to make instant, positive changes in their lives.  Launched in October 2005 and published 10 times a year by Rodale Inc., Women's Health has quickly grown into a multimedia brand that includes branded books, mobile applications, and renowned events. The magazine has received numerous industry accolades including the 2011 ASME National Magazine Award in the category of General Excellence in Fashion, Service, and Lifestyle and was also nominated for the ASME of General Excellence again in 2013; included on Adweek's annual Hot List two times and is nominated for a third in 2013; and was named Advertising Age's 2009 Magazine of the Year and also listed among their 2013 A-List winners. For more up-to-the-minute information, visit www.womenshealthmag.com and get instant updates via Twitter (@WomensHealthMag) and Facebook (Women's Health Magazine).
Here is a clip where you can learn more about Stacie:

.
In order to win this DVDs (Continental U.S. only!) you must do the following:
Post a comment below (on this particular blog post).
Tweet out your interest by saying "I want to win @StacieJClark @WomensHealthMag DVD from @BrooklynFitChik"
I will randomly pick one winner on Monday, January 27th at NOON eastern time and contact them directly. Good luck and enter as often as you like!
Until next time…
Ox Ox,
BFC
Brooklyn Fit Chick
Follow me on Twitter: "BrooklynFitChik" (note the spelling!)
Instagram: BrooklynFitChick
Pinterest: BrooklynFitChick
You Tube: BrooklynFitChick1