What Did We Learn This Month?
 Health: January/February 2014
Health Cover Star for January/February:
Julia Mancuso
Who dis? Julia is a gold medal winning Alpine skier who is getting ready to compete in the winter Olympics. Julia keeps herself in fighting shape wit "a lot of yoga and Pilates, the Nike Training Club app and her "lucky underwear.' The last one is her own joke—she is not a superstitious person by nature.
Good luck Julia!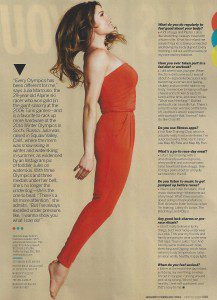 So what else is inside the December Health?
"6 Top Fitness Myths—Busted"
Health helps us "exercise smarter" by talking about all types of myths and legends in the workout world including the efficacy of crunches and whether or not weights will bulk you up (they won't, by the way.) M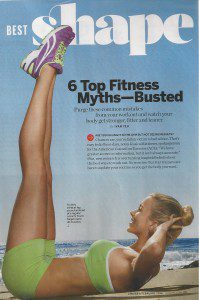 "Tracy's Total Body Tone-Up"
I know that Tracy Anderson's diet and fitness tips are not exactly a favorite of most trainers and health professionals, myself included.  (I mean—she asserts that indoor cycling and using dumbbells  heavier than 3 pounds will bulk a woman up—sigh. )
However,  I absolutely LOVE her floor workouts and this one is pretty darn good.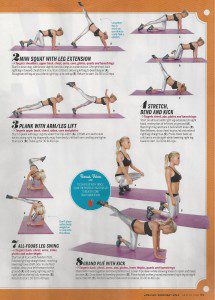 "Your Metabolism: Lower Back"
I really appreciated the advice given here on how to protect and strengthen your lower back and think it is especially helpful to fitness professionals.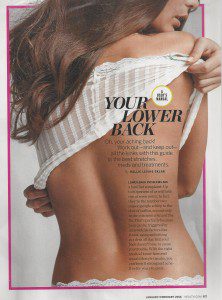 "Life Lessons from Olympic Stars"
OMG you guys—the Olympics are coming!!! I can't wait but in the meantime this article talks to members of the U.S. team about their individual motivation.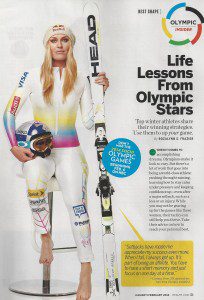 And now the rest of the best of this issue of Health:
"Track? Trail? It's All Good" Burrr—it's too cold to talk about running outside!
"Winterize Your Skin" Tips and tricks to keep your skin glowing in this insane Vortexy-y weather.
"Easiest Home Detox Ever" My shameful secret? I love the smell of chemicals including bleach. I know I need to cut back on them so this feature may help me go a bit greener when cleaning at home. (Like I do THAT often! Ha!)
"Body Clues You Shouldn't Ignore" February is heart health awareness month so the editors of Health want you to know the symptoms is something wrong with your ticker.
Follow Heath online at: www.Health.com
Overall Grade:
B+ Could have used a few more workout pages but there was lots of good information included in this issue so I am happy.
Until next time…
Ox Ox,
BFC
Brooklyn Fit Chick
Follow me on Twitter: "BrooklynFitChik" (note the spelling!)
Instagram: BrooklynFitChick
Pinterest: BrooklynFitChick
You Tube: BrooklynFitChick1