Brooklyn Fit Chick Vlog Episode 67
Featuring: The Brooklyn Fit Chick NYC Bloggers Brunch, 21 Day Sugar Detox, Fitbloggin', Diets in Review Article, & The Cutest Video of the Week
Plus: My Brand-New Super-Secret Ambassadorship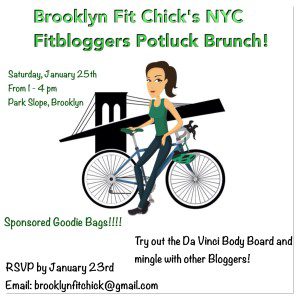 Hey there! Hi there! Ho there!
I have had a rather hellish week dealing with getting my health insurance to kick in and will not besmirch this post with the negativity it has brought into my life. That I will save for its own post tomorrow! In this week's Vlog post I will discuss:
The New York City Health & Fitness Bloggers Brunch! Park Slope, Brooklyn// Saturday, January 25th
Attention all health & wellness Bloggers because I am hosting a bunch at chez moi and I want to meet you all in person. The invite details are up top and I am getting together a fantastic goodie bag together so PLEASE RSVP me at brooklynfitchick at gmail dot come for all of the deets.
21-Day Sugar Detox:
Clowns to the left of me—jokers to the right and I am smack dab in the middle of this 21-Day Sugar Detox from the amazing Diane Sanfilippo, BS NC who is the author of not only the 21-Sugar Detox Cookbook but also my favorite cookbook of all time Practical Paleo. Wish I could say it was easy and I have been perfect but alas, my candy cravings (brought on by excessive stress) were so strong the other day I chowed down on a few tic tacs from my purse as if my life depended on them. Oh, and I may have had a glass of red wine or two (or three…)
However, I am sticking to it as closely as possible and am enjoying the results so far (skin clear, gut feels fine, no bloating—score!)
Here is a photo of the "Beef & Bacon Cottage Pie" I made last weekend that rocked my socks off. Deeeeee-liscious!
FitBloggin 2014:
Once again this year I am going to be a speaker at Fitboggin! Whoopee! If you are curious about the annual convention check out the details here http://fitbloggin.com/. Can't wait to see all of my peeps in Savannah!
Diets in Review:
I was thrilled to be included in this article from Diets in Review talking about the sheer number of e-mail subscriptions that overwhelm my inbox each day. (For the record I subscribe to Fit Bottomed Girls, Fit Sugar, Cracked.com and Mental Floss.)
Cutest Video in the Whole Wide World (This Week)
If you are wondering what it would look like for the most adorable baby in the world to meet her uncle for the first time who just so happens to be her dad's identical twin check it out here. You're welcome!
My New Super-Secret Ambassadorship:
I was hoping to make the official announcement today but I have a new ambassadorship that I am DYING to talk to you all about but my lips have to be sealed a few more days. It should all be sorted out soon but here is a hint: it's a company that is about cycling and women. More to come soon!
In the meantime—here is this week's Vlog post:
Love y'all! Talk soon.
Ox Ox,
BFC
Brooklyn Fit Chick
Follow me on Twitter: "BrooklynFitChik" (note the spelling!)
Instagram: BrooklynFitChick
Pinterest: BrooklynFitChick
You Tube: BrooklynFitChick1