What Did We Learn This Month?
 Fitness: March 2014
What Do We Learn This Month in Fitness?
 "Arms Race"
I love these moves from Andrea Rogers of Xtend Barre that will shape your arms. My shoulders were burning after I tried this circuit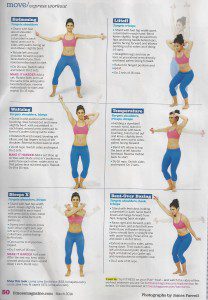 "Love It!"
I love my beauty stories and the Venus compact razor and Philosophy Mineral Makeup featured here give me the "I Wants."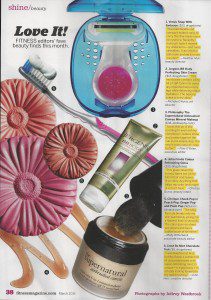 "Hot Stuff"
After weeks of wearing snow boots nonstop this photo of cheerful-looking sneakers made me realize Spring is indeed around the corner.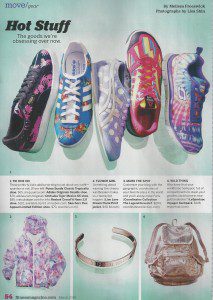 "The Flat-Abs Formula"
Fitness asked top trainers to give their favorite moves for abs. This page featuring balance ball moves from Josh Fly of Chelsea Piers made me go "hmmm." Especially the "Rolling Pin" as it looks super tough. (Just for my advanced core students, I guess?)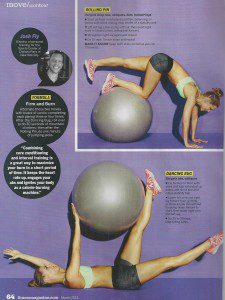 And now the rest of this issue of Fitness:
"Power Combos" Loved this story about women who made new friendships while trying new workouts.
"Quickie Calorie Crushers" Benjamin Hendrickson of Chelsea Piers offers his "get-fit time-savers" including saving your stretching routine for bedtime and a "turbo circuit" you can fit in quickly during your busy day.
"Don't Go There" Paula Derrow takes on the subject of weight gain after getting married and how she learned to speak about touchy subjects with her husband.
Overall Grade:
A-  Lots of good information in the march issue plus lots of pages to rip out and try at the gym!
You can follow Fitness magazine at www.fitnessmagazine.com
Until next time…
Ox Ox,
BFC
Brooklyn Fit Chick
Follow me on Twitter: "BrooklynFitChik" (note the spelling!)
Instagram: BrooklynFitChick
Pinterest: BrooklynFitChick
You Tube: BrooklynFitChick1