Brooklyn Fit Chick Giveaway
The "Taste of Nature" Snack Bars
Plus: Rosacea Flare-Ups & "House of Cards" Is Back on Netflix!
Hey there! Hi there! Hi there!
Sooooo, is it cold enough for ya?  Honestly this winter has me rethinking this whole "living in New York" thing. It's not often I miss California but times like this, take me back to the land of sunshine! And we have several more weeks of it to look forward to over the next several weeks. (Ugh squared!)
With the extremes in temperature my rosacea has flared up and the bottom of my face has red & scaly patches which is not exactly a look I want to show on video so this week. So with that in mind—I have giving my aching epidermal layer a rest and will put off my Vlog until later this week.
Here are a couple items before I dive right into this week's giveaway.
I am so sick of this weather that this weekend I whipped out my summer playlist during my spin classes to get everyone in a better mood. In case you are interested—here it is. (You also get a picture of me in my favorite summer cover-up when I was a wee girl living in Long Island Summer Playlist.)
One good thing about living on the east coast in crappy weather is that you can spend an entire day catching up on your favorite shows on Netflix such as, say House of Cards Season 2. Have any of you been watching? I actually sat on my couch (more like laid down on my couch but, who cares) and watched the first five episodes of the new season in basically a haze. Do yourself a favor and check it out.
Taste of Nature Snack Bars Giveaway
This week I am offering a giveaway of the most delicious snack bars that I have tried in quite some time. (On par with KIND bars, really!) The company is called Taste of Nature and their snack bars are 100% certified organic, gluten free and are non-GMO project certified.
Plus:
Contains nothing artificial, no fillers, no added sugar and no chemicals with names as hard to pronounce as they are to digest
High in fiber and healthy carbohydrates combine providing a satisfying snack with real food taste.
Made from the highest quality organic ingredients in a facility powered by renewable energy
Delivers a great taste you can feel good about
Here are the links for "Taste of Nature" so you can learn more about them:
Website: http://www.tasteofnature.ca/
Twitter: @Taste_of_Nature  (https://twitter.com/Taste_of_Nature)
Facebook: https://www.facebook.com/tasteofnature
Instagram: http://instagram.com/tasteofnature
Pinterest: http://www.pinterest.com/tasteofnature
"Taste of Nature" is providing one box containing three bars and will ship directly to whoever wins this giveaway. (I am posing with my best side for your viewing pleasure, you're welcome!)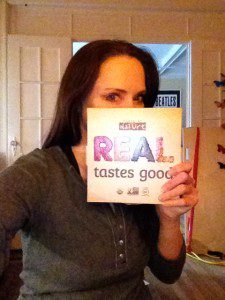 Got that? So if you want to win you to do the following (Continental United States, please!)
Post a comment below (on this post) letting me know you are interested.
Send a comment on Twitter and say "I want to win the @Taste_of_Nature snackbars from @brooklynfitchick"
If you haven't already—let me know you are subscribing to my You Tube channel
This is my own special giveaway and I am not being paid to offer it. I will pick one winner at random next Monday, 24, 2013 at NOON Eastern Time and contact them directly. Good luck and enter as often as you like!
Until next time…
Ox Ox,
BFC
Brooklyn Fit Chick
Follow me on Twitter: "BrooklynFitChik" (note the spelling!)
Instagram: BrooklynFitChick
Pinterest: BrooklynFitChick
You Tube: BrooklynFitChick1