Brooklyn Fit Chick Vlog Episode 70
Featuring: My Super, Duper 21-Day Sugar Detox Cookbook Giveaway!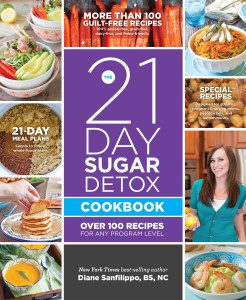 Hey there! Hi there! Hi there!
It has been a wild and wooly in the fitness blogosphere—whoa! First we had this rather, um—interesting personal essay from Jen Polachek who talked about her internal struggle when facing a "fairly heavy set black woman" who dared to enter her yoga class on the supposedly woman-friendly site XO Jane. I am NOT kidding—read it for yourself here: OX Jane 1.
The first response I noticed came courtesy of the beautiful & talented Erika Nicole Kendall of the Blog The Black Girl's Guide to Weight Loss. Nicely done, Erika.
If you are looking for the perfect rebuttal in addition to Erika's than you can hardly do better than to check out the incredible Pia Glen who wrote this on XO Jane. Both managed to peel away the icky layers of pseudo self-awareness of Polachek's personal essay which for some reason was featured in the "It Happened to Me" page—usually dominated by sad or scary stories.
Anyhoo—this story has been discussed to the nth degree so let's just move on to a couple of fun news items and then talk about my FAB giveaway—yes?
I am going to be speaking at Fitbloggin this year! Tickets are on sale NOW so get them while you can. (We will be in Savannah this year—whoo hoo!)
In case you missed it—Terry Bicycles announced my ambassadorship on their site here. Very excited about this partnership!
My writing chops are going to get a workout with my soon-to-be regular contributions on SweatGuru.com. (Whoop!)
And now, on to this week's big giveaway!
21 DAY SUGAR DETOX COOKBOOK
The New York Times best-selling author Diane Sanfilippo, BS. NC has written some of my favorite Paleo books including Practical Paleo and The 21-Day Sugar Detox and is an all-around cool chick (and animal lover!) in addition to being the writer of some kick ass recipes.
If you are looking to find ways to get refined sugars out of your diet without starving yourself or losing your energy—you need to read her newest book The 21-Day Sugar Detox Cookbook.
If you want to win a copy today, keep on reading to find out what you need to do. (Disclaimer alert: I received a copy of The 21-Day Sugar Detox Cookbook for giveaway from Victory Belt publishing and was not paid to offer to my readers.)
I love this cookbook and have been having a ball making some yummy (and healthy) versions of some of my favorite foods including Shepard's Pie which you can see below. (This is a new favorite recipe for me!)
So, enough of my dawdling and let's get on to this week's Vlog post:
Here is some information about The 21-Day Sugar Detox Diet Cookbook:
The 21-Day Sugar Detox Companion Cookbook Now Available!
Diane Sanfilippo, Author of the Bestselling books Practical Paleo and the 21 Day Sugar Detox delivers complete cookbook to accompany her highly acclaimed detox program
Essex Fells, NJ (December, 2013)—Diane Sanfilippo has yielded marked success with her revolutionary New York Times bestselling book, The 21-Day Sugar Detox: Bust Sugar & Carb Cravings Naturally and now she delivers another masterpiece—The 21-Day Sugar Detox Cookbook.  The cookbook is a companion guide to Sanfilippo's customized program that has helped tens of thousands of men and women naturally break free from the sugar strong hold to help them live a more healthy and balanced life.
The 21 Day Sugar Detox Cookbook boasts more than 100 new recipes for any program level.  These delectable recipes come straight from the kitchen of Sanfilippo and are all grain, gluten, legume, dairy, and sugar-free. The book also contains 21-day simple and straightforward meal plans, "yes", "no" and "limited" food lists and tips and tricks that will keep you on the road to success.  Recipes include easy-to-follow breakfast, lunch, dinner, snacks and "sweet treats."  These mouthwatering creations will keep you satisfied as your cravings for sugar and carbs disappear.
Sanfilippo is Certified Nutrition Consultant and has dedicated her life to helping others change their eating habits to achieve optimal health.  Through her extraordinary bestselling books Practical Paleo and The 21-Day Sugar Detox (and now) The 21 Day Sugar Detox Cookbook, Sanfilippo has helped people worldwide become more educated about food choices, take action against sugar dependency and do it in a way that's not only sustainable, but enjoyable.
Sample Recipes Include:
Breakfast Sausage and Biscuit Sandwich
Butternut Squash Pancakes
Artichoke and Lemon Chicken with Capers
Asian Ginger Flank Streak
Pizza Frittata
Sunbutter Brownies
Nutty Cinnamon Crumb Cake and more!
More information on Sanfilippo's complete 21 Day Sugar Detox program can be found online at http://the21daysugardetox.com/, along supplemental resource guides, continuing online education and informational videos done by Sanfilippo herself.
The 21-Day Sugar Detox Cookbook can be found in stores nationwide, including at Barnes & Noble, Books A Million, and independent retailers, as well as online at Amazon and Barnes & Noble.
ABOUT DIANE SANFILIPPO
Diane Sanfilippo holds a BS from Syracuse University and is a Certified Nutrition Consultant who specializes in blood sugar regulation and digestive health. She is The New York Times Bestselling author of Practical Paleo: A Customized Approach to Health and a Whole-Foods Lifestyle and The 21 Day Sugar Detox: Bust Sugar & Carb Cravings Naturally and writes for her popular health blog www.balancedbites.com, teaches nutrition seminars nationwide and has a top-rated weekly health podcast in iTunes, "The Balanced Bites Podcast. Practical Paleo and The 21-Day Sugar Detox are published by Victory Belt Publishing.
ABOUT VICTORY BELT
Victory Belt Publishing Inc is the world's leading publisher in health and fitness books, producing a host of New York Times bestsellers, including The Paleo Solution, Practical Paleo, The 21 Day Sugar Detox, Against All Grain,  It Starts with Food, and Dark World. Started by Erich Krauss, a New York Times bestselling author, Victory Belt Publishing Inc is an author-friendly publisher geared toward producing the highest quality books on the market. Victory Belt Publishing has worldwide distribution, and its titles have been translated into dozens of languages. The company has the highest ratio between books published and New York Times bestsellers. Victory Belt Publishing's main office is located in Las Vegas, Nevada. For more information, please visit www.victorybelt.com.
Got that? So if you want to win you need to do the following!
Post a comment below (on this post) letting me know you are interested.
Send a comment on Twitter and say "I want to win the @balancedbites #21dsdcookbook from @brooklynfitchick"
If you haven't already—let me know you are subscribing to my You Tube channel
This is my own special giveaway and I am not being paid to offer it. I will pick one winner at random next Monday, February 10th at NOON eastern time and contact them directly. Good luck and enter as often as you like!
Until next time…
Ox Ox,
BFC
Brooklyn Fit Chick
Follow me on Twitter: "BrooklynFitChik" (note the spelling!)
Instagram: BrooklynFitChick
Pinterest: BrooklynFitChick
You Tube: BrooklynFitChick1