Brooklyn Fit Chick Vlog Episode 71
The "Let's Giveaway Ultimate Booty Workouts" Edition
Plus: The Biggest Loser Controversy & 5 Songs I Have "Retired"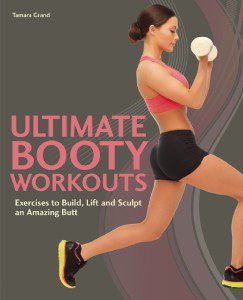 Hey there! Hi there! Hi there!
ULTIMATE BOOTY WORKOUTS
One of my favorite Blogger buddies is Tamara Grand of Fit Knit Chick. Tamara is busy wife, mother, pet lover (fellow cat lady!) and personal trainer who specializes in helping women in their 40s & 50s get into shape. You have probably deduced from the name of her Blog she is also a bit of a knitter and likes to figure how to make beautiful things with yarn and a little imagination.
Tamara's first book is the Ultimate Booty Workouts: Exercises to Build, Lift and Sculpt an Amazing Butt from Ulysses Press and I am picking one winner to receive a copy of it (Continental U.S. and Canada only.) You need to check out the clip down below to find out how to win. (I am a little chatty today so jump on down there if you do not have the patience for a little ranting.)
THE BIGGEST LOSER
So, have any of you heard about a certain TV show called The Biggest Loser? Well in case you have been studying the back & forth of the Woody Allen, Dylan Farrow, Mia Farrow, Moses Farrow and Ronan Farrow nightmare instead here is the rundown of the best links for The Biggest Loser Finale/Salute to Disordered Eating & Thinking:
So I guess we should all finally admit that this show is NOT about getting healthy and is in fact a corporate-sponsored spectacle that found a way to make money fat-shaming a willing group of people desperate to save their lives?  See, you create footage of people throwing up into potted plants, stumbling on treadmills and breaking down in tears due to exhaustion and it is okay. Because this is how you cure obesity! And it doesn't matter if the same things happen each season—because we will keep repackaging it like it is new!
NBC doesn't care about health & wellness—ratings will always be king to them. Ratings and profit share are of top interest to every network and NBC in particular taking branding of The Biggest Loser to top restaurant chains and getting them to pay millions for the chance to sell to their audience.  The sheer number of sponsors on the program and the lack of high-priced actors make this program a money maker. (I could never get through an episode of The Biggest Loser because of all of the damn commercials throughout the show that already had advertisements!)
And I am sure the winner had dollar signs in her head the whole time. Can you blame her? Who couldn't use $250,000? Would you willingly lose a quarter million dollars over a few pounds? I would have done the same damn thing if I thought I could get that small. (How the hell doesn't she have loose skin, by the way? Anyone?)
She certainly isn't a villain, a victim or a stooge—she is a competitor. I give Rachel a pass. She went on a game show and won the whole shebang.
Let's just hope we never see it get to this level again. (Shuddering at the very thought of it.)
My point is we cannot find salvation for the obesity epidemic by a profit-driven entertainment company. They will always look to make it sensational and forget about the whole "let's help people really in dire need right now."
(Whew! I am done with this one. Let's move on, shall we?)
FIVE SONGS I HAVE "RETIRED"
Putting together playlists for my classes (and let's be real—for you guys as well!) is one of the joys of my life. I decided to go back to some older ones to see if maybe I should bring back some songs I have forgotten about over the years. This brought me face to face with several songs that used to appear regularly in my classes that I eventually dropped altogether. I still like them all for listening but for teaching—I am officially done with the following five tunes…
Sexy Back: Justin Timberlake (Listened to this one way too many times to appreciate anymore. Love JT but with this one I am dunzo.)
Single Ladies: Beyonce (OMG–I loved this song when it first came out but I damn it got annoying. And I am a huge B fan. )
Sweet Child of Mine: Guns N Roses (This used to be a song that rocked everyone socks off but I have to admit—it's classic rock now and some people just can't take it. I got sick of seeing some of my student's faces get all grumpy for the whole six minutes. Love it in my personal life but in classes—nope.)
Give it Away: Red Hot Chili Peppers (I love most of their music for fast sprints—but this tune is just a tough slog for me. Too repetitive and loooooong. About a minute and half too long.)
Freedom 90: George Michael (I did this to myself. I played it so many damn times over the years I lost all of my joy for it. And this was one of my favorite songs of ALL time. So I am letting George go for a while.)
So are there any songs you used to love and now have to retire from your workout playlist? Let me know.
In the meantime– let's get on to this week's Vlog post:
ULTIMATE BOOTY WORKOUTS:
Exercises to Build, Lift and Sculpt an Amazing Butt
Tamara Grand
Every woman wants a sexy backside. Introducing Ultimate Booty Workouts, a new all-levels fitness program targeted to tone and perk your butt with easy-to-follow exercises and step-by-step pictures!
Strengthen your glutes and feel the burn with the Basic Glute Bridge. Target those pesky inner thigh muscles with Pliés and Goblet Squats.
The targeted programs in this book will have your booty toned and perky in no time. Plus, these workouts will help your glutes and hamstrings:
Accelerate fat loss
Improve posture
Decrease, back hip & knee pain
Tighten & tone abs
ABOUT TAMARA GRAND
Tamara Grand loves in beautiful British Columbia, Canada with her husband, three children, a ginger cat and a stash of hand-dyed yarn. She works as a BRRPA Certified Personal Trainer and Group Fitness Instructor and is armed with a PhD in Biology.
I insist that you follow Tamara as well. It will do your body good!
Got that? So if you want to win you need to do the following (Continental United States & Canada only, please!)
Post a comment below (on this post) letting me know you are interested.
Send a comment on Twitter and say "I want to win the @fitknitchick_1 #bootyworkout from @brooklynfitchick"
If you haven't already—let me know you are subscribing to my You Tube channel
This is my own special giveaway and I am not being paid to offer it. I will pick one winner at random next Monday, February17th at NOON eastern time and contact them directly. Good luck and enter as often as you like!
Until next time…
Ox Ox,
BFC
Brooklyn Fit Chick
Follow me on Twitter: "BrooklynFitChik" (note the spelling!)
Instagram: BrooklynFitChick
Pinterest: BrooklynFitChick
You Tube: BrooklynFitChick1