Brooklyn Fit Chick Vlog Episode #72
Julia Mancuso, Human-Powered Treadmills and My First Terry Bicycles Post
Plus: My Blue Diamond Almonds Giveaway!
Hey there! Hi there! Hi there!
Hey gang! Guess what happened in New York City? Hold on to your knickers but we have had TWO ENTIRE DAYS (in a row) over 50 degrees & sunny!! Whoo hoo! After several weeks in a row of cold & damp rain, excessive snow, frigid temps and fogginess it feels great to run errands and not have to bundle up to within an inch of my life. In fact, it feels pretty damn terrific though I know spring really not arrive for a few more weeks. (Oh spring–I will see you again, won't I?)
In the meantime, I have a few fun items to share with you today plus my newest giveaway—Blue Diamond almonds!
So what happened this past week?
While on assignment with Fit Bottomed Girls this past week I went to a yoga session & luncheon hosted by ZICO coconut water at Exhale Spa to celebrate Olympic Alpine Skier Julia Mancuso and her return from the Sochi games. The Olympian even brought her bronze medal along and let us all check it out!  I will send you the link for this post as soon as it is live. In the meantime—here is a photo of the lovely (and patient) Julia allowing me to ogle her bronze medal. (Those things are super heavy, by the way!)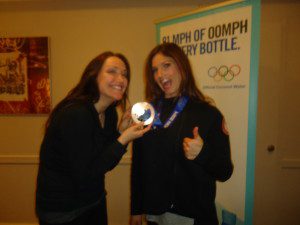 Also for Fit Bottomed Girl I wrote this article about Superstar Gym and their "Fitwalker" class which is basically a treadmill workout that uses pure leg power. As in you do not plug it in or turn it on. You just get on it work your little butt off. Anyone want to take a class with me? Let me know! In the meantime enjoy this photo of Christian Castano who teaches at Superstar Gym. (You're welcome)
Finally—I have my first article posted at Terry Bicycles talking about my love for the Da Vinci BodyBoard. (I am a fitness ambassador for Terry and am pleased as punch to contribute to their Blog.)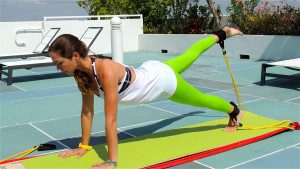 Now let's move on to this week's Vlog:
Blue Diamond Almonds Giveaway
This week I am offering a giveaway of two tins of Blue Diamond Almonds courtesy of Blue Diamond who will send the winner their prize directly. (Note: Blue Diamond did not pay to sponsor this giveaway.)
The two flavors you can enter to win  are Whole Natural and (my favorite!) Smokehouse. Check out how to enter this particular giveaway below!
Also, be sure to follow Blue Diamond on the following social media sites:
Facebook.com/BlueDiamond
Instagram.com/BlueDiamond
Twitter.com/BlueDiamond
Pinterest.com/BlueDiamond
So if you want to win you need to do the following (Continental United States only, please!)
Post a comment below (on this post) letting me know you are interested.
Send a comment on Twitter and say "I want to win @BlueDiamond Almonds from @brooklynfitchick"
If you haven't already—let me know you are subscribing to my You Tube channel
I will pick one winner at random next Monday, March 3, 2014 at NOON Eastern Time and contact them directly. Good luck and enter as often as you like!
Until next time…
Ox Ox,
BFC
Brooklyn Fit Chick
Follow me on Twitter: "BrooklynFitChik" (note the spelling!)
Instagram: BrooklynFitChick
Pinterest: BrooklynFitChick
You Tube: BrooklynFitChick1