Brooklyn Fit Chick Giveaway!
EATING IN COLOR: Delicious, Healthy Recipes for You and Your Family
By Frances Largeman-Roth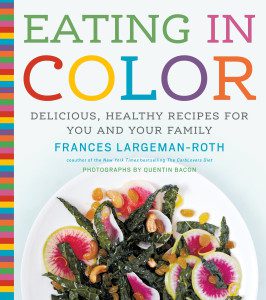 Howdy!
One of the advantages of taking my classes at the YMCA is that if you have a healthy cookbook you are looking to promote—I am your "go to" gal!
Today I want to offer a fabulous cookbook from one of my dedicated Sunday morning early (8:30 am!) riders—Frances Largeman-Roth. Frances is a registered dietician and the former food & nutrition director of Health magazine. The title of her newest book is Eating in Color: Delicious, Healthy Recipes for You and Your Family and I am offering one copy to giveaway to anyone who follows the rules at the end of this post. It's open to anyone in the Continental U.S. and you can enter as often as you like!
Here are more details about Eating in Color:
After the holiday gluttony, we crave easy family recipes that are healthful and uplifting. Dietician and bestselling author Frances Largeman-Roth offers us star fruit, Meyer lemon, chia seed, pomegranate, and rhubarb in Eating in Color (Stewart, Tabori & Chang; January 7, 2014; hardcover; U.S. $27.50/ISBN: 978-1-61769-029-7). Utilizing the color spectrum, Largeman-Roth brings vividly hued food to life—from deep green kale to vermilion beets. She showcases vibrant, delicious foods that have been shown to reduce the risk of heart disease and stroke, diabetes, and obesity.
Avocados, tomatoes, faro, and blueberries take center stage in family-friendly recipes ranging from Caramelized Red Onion and Fig Pizza to Golden Beets with Parsley Pesto and Fregola, and Cran-Apple Tarte Tatin. Beautiful photography accompanies 90 rich recipes, and Largeman-Roth's healthful vision caters to even the pickiest eaters (being a mom to two toddlers she should know!). Eating in Color is a must-have for winter kitchens and beyond. Now, we can all eat well while eating healthy.
Frances Largeman-Roth is a registered dietitian and the former food and nutrition director of Health magazine. Currently she is a contributor to and TV spokesperson for Cooking Light magazine. She is the author of Feed the Belly: The Pregnant Mom's Healthy Eating Guide and coauthor of the New York Times bestselling The Carb Lovers Diet and The Carb Lovers Diet Cookbook
You can learn more about Frances at her website plus follow her on Facebook and Twitter.
If you want to win this giveaway you must do the following (Continental United States, please!)
Post a comment below (on this post) letting me know you are interested.
Send a comment on Twitter and say "I want to win Eating in Color by @FrancesLRothRD from @BrooklynFitChik"
I will pick one winner at random on Monday, March 17, 2013 at NOON Eastern Time and contact them directly. Good luck and enter as often as you like!
Until next time…
Ox Ox,
BFC
Brooklyn Fit Chick
Follow me on Twitter: "BrooklynFitChik" (note the spelling!)
Instagram: BrooklynFitChick
Pinterest: BrooklynFitChick
You Tube: BrooklynFitChick1