What Did We Learn This Month?
 Health
March 2014
Health Cover Star for March:
Alison Sweeney
Alison must have an exhausting schedule because the married mom of two young kids somehow manages an acting career (Days of Our Lives,) hosting the popular (and controversial) The Biggest Loser for NBC, plus she is now publishing her second novel—Sacred Scriptless which comes out this summer.
In this interview Alison talks about her advice for making time for fitness ("…it's so much cheaper to take care of your body now than to pay the health bills later") and shows off a few of her favorite workout moves.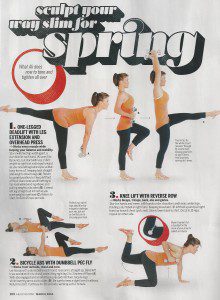 So what else is inside the March Health?
"Tracy Tones You"
I completely disagree with Tracy Anderson's directive that women use hand weights no heavier than 3 pounds as she is not "a fan of the potential long-term damage heavier weights can do to your body." (Seriously?)  I DO, however, love her high rep moves that work smaller muscles. So that take that for what you will and by that I mean grab a 5-pounder and go kick some ass!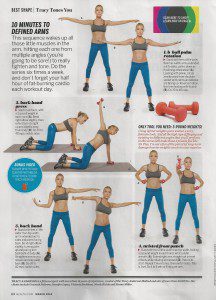 "A User's Manual: Your Blood"
LOVE this article that talks about all kinds of issues that can arise from the health of your blood from anemia to bruising to energy level—very important.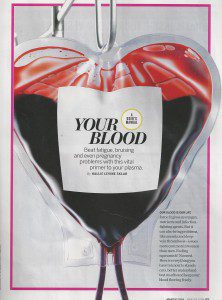 "Staying Injury-Free"
The best exercises you should do in order to keep your muscles and joints in good order from trainer Michele Olson PhD.


And now the rest of the best of this issue of Health:
"Bullseye! Younger-Looking Skin" This horrible winter weather is wreaking havoc on my skin so I looked over this feature with a keen eye.
"Old-Time Cures Are New Again" How Bengay, prunes and ginger can heal what ails you.
"Is It Too Late for a Baby?" Nice to read a fertility article that ISN'T meant to scare the hell out of women!
Follow Heath online at: www.Health.com
Overall Grade:
A Great issue with several helpful pages and even a few workout pages—yay!
Until next time…
Ox Ox,
BFC
Brooklyn Fit Chick
Follow me on Twitter: "BrooklynFitChik" (note the spelling!)
Instagram: BrooklynFitChick
Pinterest: BrooklynFitChick
You Tube: BrooklynFitChick1