What Did We Learn This Month?
 Health
April 2014
Health Cover Star for April:
Brooke Burke-Charvet
The former co-host of Dancing With the Stars is a "Booty Burn" fitness instructor and the creator of the Caelum activewear line.Brooke teaches every Sunday and works out on her own 3-5 times per week to stay healthy and sane. In 2012 she was diagnosed with thyroid cancer but is thankfully cancer-free for over a year now.
You can see some of Brooke's "Booty Burn" moves here:
So what else is inside the April Health?
"Meet You Support Group"
Health picked out some of the cutest bra tops I have seen in a long time that actually seem to offer support—yay!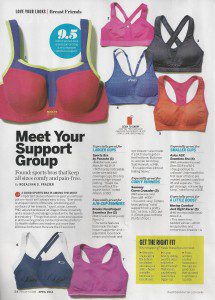 "Tracy Tones You"
The high-end trainer shows how gets such a sleek middle section plus she offers a recipe for Parmesan crisps (she is a fan of dairy!)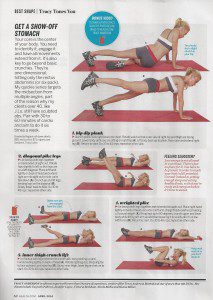 "A User's Manual: Your Ears"
You ears are very important to your health (mine were out of whack earlier this year and gave me vertigo so I know what I am talking about here.)  Learn what you need to know about your hearing, ear wax (really,) swimmer's ear and tinnitus.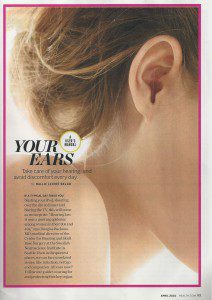 "Which Beauty Gizmos Really Work?"
This whole page gives me the "I wants!" To paraphrase Cher—if I could turn back time I would have taken better care of my skin.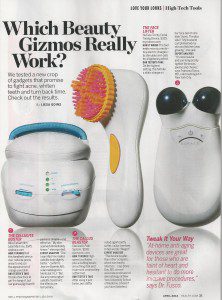 And now the rest of the best of this issue of Health:
Meditation: It seems I keep reading about the power of meditation everywhere I go. This article from Jancee Dunn has me convinced to really give it a try.
"Bloggers Feel-Great Moves" My girls Emily Sandford and Carla Birnberg are featured here!!!!
Follow Heath online at: www.Health.com
Overall Grade:
B+ I liked the workouts featured and I tore out a few pages to do some birthday shopping. (March 29th everyone!)
Until next time…
Ox Ox,
BFC
Brooklyn Fit Chick
Follow me on Twitter: "BrooklynFitChik" (note the spelling!)
Instagram: BrooklynFitChick
Pinterest: BrooklynFitChick
You Tube: BrooklynFitChick1