What Did We Learn This Month?
 Shape:
March 2014
Shape Cover Star for March 2014:
Are you ready for the sexiness of Sharon "Mother F***in Stone? Well here she is folks—does 56 get any hotter? Mrow!
Sharon has been in a million jillion movies over the years and will soon star in TV's Agent X playing the Vice President of the United States. In addition to her show business life she has been an activist for amFAR (the AIDS research foundation) for over 20 years. Add all of that along with being a mom to three boys and that makes for one BUSY woman!
In spite of Hollywood's obsession with youth she refuses to go under the knife and instead enjoys the good health she now enjoys after having survived a stroke in 2001 (yikes!)
The 24-Hour Fitness club devotee (earphones in and no chit-chat on the gym floor, please) likes to change up her workout with a variety of exercises including a few you can see here where she uses a chair for balance and strength poses. (I do not recommend trying this at home if you are as accident-prone as I am!)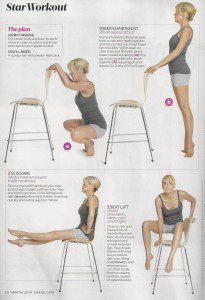 What else is on the March issue of Shape?
"Boost Your Bottom Line"
Looking to firm up those glutes now that "shorts" season is on the horizon? (Someone tell me  this godforsaken season will be over soon!) This workout from trainer Andrea Orbeck should do the trick.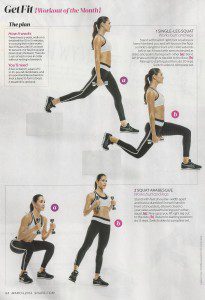 "Wise Buys"
Here we get a whole of workout gear that gives me the "I wants"—especially the Perfect Duffel Bag from Under Armor. (Can anyone hook a fit chick up?)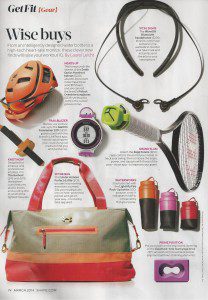 "Bell Curves"
If you need a quick 20-minute workout with kettlebells try this one from the folks at KettleWorX 8-Week Rapid Evolution and swing away!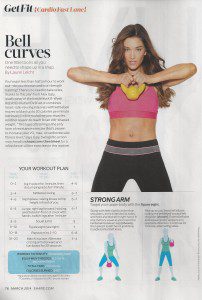 "Tinseltown's Top Trainers"
The top advice from the hottest trainers in La-La Land including Kit Rich, Mark Harai, Jennifer Johnson, Anna Kaiser and Lacey Stone.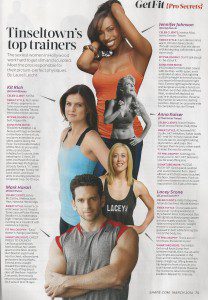 "Join the Club"
Can't afford one of those high-priced aforementioned trainers? Have no fear because Janet Lee gives us a full workout using all of the equipment your local gym should have ready for you to rock.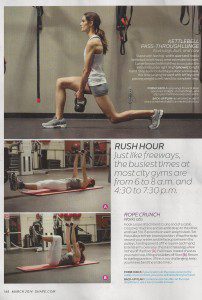 And now the rest of the best of this issue of Shape:
"World Class Beauty" I love my beauty stories and am an oversees beauty product addict (really!) This page has all kinds of new lotions and potions I need to try right away.
"Running USA" Shape rates the best cities to go for a run including:
Asheville, NC
Austin, TX
Boston
Chicago
New York City
Kauai, HI
Portland, OR
San Francisco
Santa Fe, NM
Follow Shape magazine online at: www.Shape.com
Overall Grade:
A  Everything I wanted in a magazine this month with plenty of great workouts to try and a super fun beauty page—score!
Until next time…
Ox Ox,
BFC
Brooklyn Fit Chick
Follow me on Twitter: "BrooklynFitChik" (note the spelling!)
Instagram: BrooklynFitChick
Pinterest: BrooklynFitChick
You Tube: BrooklynFitChick1