What Did We Learn This Month?
Health
May 2014
Health Cover Star for May:
Christina Hendricks
OMG—I love Mad Men and Joan Harris is one of my favorite characters on the show. She looks beautiful inside the magazine but the actress doesn't really say all that much about being healthy. Well, except that Christina replaces Greek yogurt for some high-fat dairy items and prefers yoga pants to sweats.
(Inside the magazine she wears a smashing white suit from Armani that should have been the cover IMHO.)
Moving on…
So what else is inside the May Health?
"Swim in Style"
Health offers some really cute ideas for swim suits that make me think summer might actually arrive sooner than later. (Yippee!)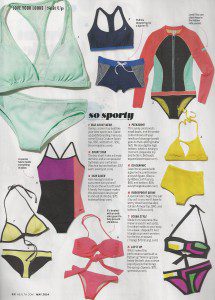 "Tracy Tones You"
Tracy Anderson gives her favorite "thigh and butt-blaster" moves that I am sure will tire the hell out of me but make my legs look great. (I do love her mat work.)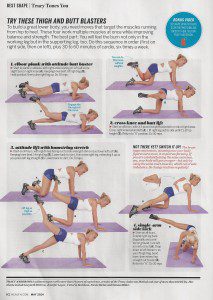 "A User's Manual: Your Urinary Tract"
Women have more urinary issues than men and therefore need to be extra careful about potential issues such as UTIs, incontinence and interstitial cystitis.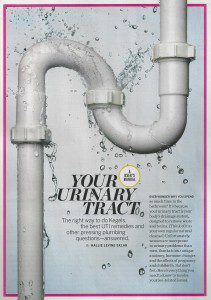 "Get on a Roll"
As a fit chick who loves her bike this feature made me all kinds of happy with the latest gear for cyclists and exercise tips from trainer Michelle Lovitt that specifically address biker issues. (My friends at Terry Bikes made the cut!)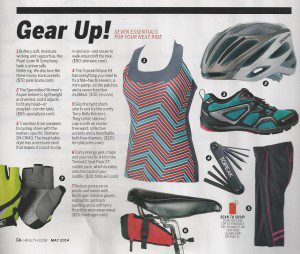 And now the rest of the best of this issue of Health:
"We Lost the High-Tech Way" The latest weight-loss apps are tested out by real women (and not editors) including those Spark People, Weight Watchers online and My Fitness Pal.com to see how well they work under real-life conditions.
"New Sensitive Skin Solutions" As someone who has bouts of rosacea—these articles are always of interest to me.
"The Secret to a Serious Calorie Burn" I am not much of a runner but for my students who are I am going to recommend they read this article about how increasing their pace can improve their overall fitness level (including metabolism!)
Follow Heath online at: www.Health.com
Overall Grade:
B This was overall a good issue but a little light on features that grabbed my interest and made me go "ooh!" Maybe next month?
Until next time…
Ox Ox,
BFC
Brooklyn Fit Chick
Follow me on Twitter: "BrooklynFitChik" (note the spelling!)
Instagram: BrooklynFitChick
Pinterest: BrooklynFitChick
You Tube: BrooklynFitChick1