What Did We Learn This Month?
 Shape
April 2014
Shape Cover Star for April 2014:
Ultimate model diva Naomi Campbell is on the cover and looking very sexy (43 years old, people!) Naomi is the Executive Producer and cohost of the show The Face which sounds similar to America's Top Model but I would never say that directly to Ms. Campbell as she is famous for a short temper. (I used to work for Conde Nast and let me tell ya—I have some gooood Naomi Campbell stories!)
Anyhoo, after 28 years in the business Naomi is now doling out her best advice for staying happy & healthy plus she shows us a few of her favorite yoga poses. Check them out here!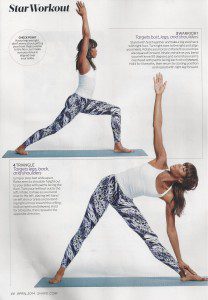 What else is on the April issue of Shape?
"Striking a Balance"
Check out the blue disc the model is balancing on. I have one of these and plan to use it more often with my client training. (Workout featured here created by trainer Kim Truman)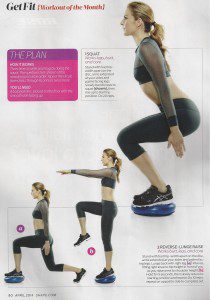 "Meet Your New Cardio"
Here we get a series of high intensity exercises (Plyometric) from Equinox trainer Lashuan Dale that will get you an overall excellent workout in under 25 minutes.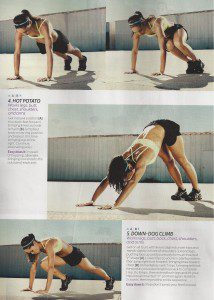 "Hit the Floor"
Tips for performing three basic Pilates moves from Brooke Siler of re:AB Pilates.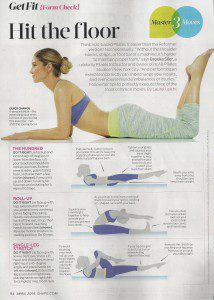 "2014 Shape Shoe Awards"
If you are looking for new trainers, shoes for Zumba or the best walking sneakers on the market—check out this issue first.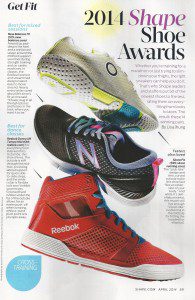 And now the rest of the best of this issue of Shape:
"Track Stars" A review of three new fitness monitors by Shape editors.
"Survive Hormonal Swings in Style" Perimenopause symptoms (insomnia, hot flashes, low libido) can occur up to a decade before menopause begins and you can combat them with the tips here.
"Women Who Shape the World" Shape honors women who are changing the world for the better including Angelina Jolie, Sara Bareilles, Iman, Sara Blakely, Ellen Gustafson, Diana Nyad, and Mary Barra.
Follow Shape magazine online at: www.Shape.com
Overall Grade:
A  Love all of workouts here plus there are useful health-related stories as well. Great issue!
Until next time…
Ox Ox,
BFC
Brooklyn Fit Chick
Follow me on Twitter: "BrooklynFitChik" (note the spelling!)
Instagram: BrooklynFitChick
Pinterest: BrooklynFitChick
You Tube: BrooklynFitChick1