Brooklyn Fit Chick Vlog Episode #77
SELF Gets a New Editor, My 20-Minute Indoor Cycling Workout for Sweat Guru, X-Tend Barre Brooklyn Heights Studio,
Plus: The Runner's World Big Book of Running for Beginners Giveaway!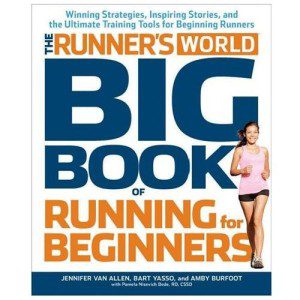 Hey there! Hi there! Ho there!
How are you all doing? I am fine and dandy in spirit but my right hamstring is sprained, strained or just in a bad mood because my leg is not feeling well. Will start with the foam rolling soon but first I need to get out this post for all of you today. You're welcome! Just a couple of quick notes today and then on to my weekly giveaway—and away we go! (Quoting Billy Eichner here.)
SELF magazine is changing y'all:  So it looks like a week after enduring terrible press after "Tutu-gate" (look it up online—SELF & Tutus and check it out for yourself if you do not know what I am talking about) editor in chief Lucy Danziger is out and in her place SELF has hired Joyce Chang from Cosmopolitan magazine to take over the reins. I am withholding all judgment until I read her first "real issue and will also hold off on any full reviews of SELF until then. (The magazine business is rough, folks!)
20-Minute Indoor Cycling Workout: I am a Sweat Pink ambassador and am lucky enough to write for their Blog www.sweatguru.com This past week  posted my first workout for them– a 20-minute indoor cycling routine. Please let me know what you think of it because I am totally new to writing these things out!
Xtend Barre Brooklyn Heights: This past week I was lucky enough to try out my first Xtend barre workout in their new Brooklyn Heights studio. Will give you more details when my article is ready on Fit Bottomed Girls.
Runner's World Giveaway: This week I am giving away a copy of Big Book of Running for Beginners which comes courtesy of the folks at Runner's World magazine. I am giving away one copy this week and Runner's World (who did not pay for this promotion) will send the winning item directly to the randomly picked winner (chosen by me.) Continental U.S. only!
Now let's get to this week's Vlog:
Okay—here are more details about this week's giveaway.
GET FIT WITH THE RUNNER'S WORLD BIG BOOK OF RUNNING FOR BEGINNERS
In Bookstores April 8, 2014
Running is one of the simplest and most effective want to lose weight, live longer, gain confidence, and relieve stress.  Learn everything a beginner needs to know to lace 'em up and hit the pavement with the latest book from Rodale Inc.'s Runner's World magazine.  The Runner's World Big Book of Running for Beginners (April 8, 2014; ISBN 978-1-60961-537-6; 266pgs; Paperback; $21.99) provides all the information neophytes will need to take their first steps.
The Runner's World Big Book of Running for Beginners helps readers foster a healthy lifestyle with aides such as:
Five training plans to start walking, start running, run nonstop, run faster, and run longer
No-fail weight-loss strategies
Ideas for meals and snacks to eat before you run, on the road, and after you're done
Injury-prevention tips including a guide on which pains to run through and which pains demand surrender
Inspirational stories from people who used running as a tool to lose weight, stop smoking, overcome illness and heartache, and manage chronic pain
Whether starting from scratch, or trying to reclaim a long-lost sense of vitality, The Runner's World Big Book of Running for Beginners has all the information a newbie needs to start a healthier and happier life.
About the Authors
JENNIFER VAN ALLEN is a special projects editor for Runner's World and a running coach certified by USATF and RRCA.  She manages The Starting Line, an online training program for beginners.
BART YASSO is the author of My Life on the Run and is the chief running officer at Runner's World.
AMBY BURFOOT, Runner's World editor-at-large and winner of the 1968 Boston Marathon, has run more than 105,000 lifetime miles (and counting).
PAMELA NISEVICH BEDE is a sports nutrition expert and co-owner of Swim, Bike, Run, Eat!, LLV, a nutrition consulting firm.
About Runner's World
Rodale's Runner's World, the largest and most influential media brand in the running space, is the essential guide for everyone who runs. The brand provides all runners—men and women, from beginners to hardcore marathoners—with the advice and information they need to pursue their goals, the inspiration and entertainment they crave, and a sense of authentic community they won't find anywhere else. Runner's World is everywhere its readers and customers are—in print, online, on-screen and on the ground. Through authentic events such as the award-winning Runner's World Challenge, the Runner's World Half & Festival (www.RWHalf.com), and the Runner's World Heartbreak Hill Half & Festival (www.HHHalf.com), Runner's World editors forge deep connections and have meaningful interactions with our readers as an organic part of the running community. Runner's World publishes 18 international editions: Argentina (March 2014), Australia/New Zealand, Belgium, Brazil, China, France, Germany, Italy, Mexico, The Netherlands, Norway, Philippines, Poland, South Africa, Spain, Sweden, United Kingdom and the United States. For digital updates, visit www.runnersworld.com, Twitter (@runnersworld), Facebook (Runner's World Magazine), as well as the brand's mobile apps.
If you want to win this giveaway you must do the following (Continental United States only, please!)
Post a comment below (on this post) letting me know you are interested.
Send a comment on Twitter and say "I want to win Big Book of Running for Beginners @runnersworld from @brooklynfitchik"
If you haven't already—let me know you are subscribing to my You Tube channel
I will pick one winner at random on Monday, April 14th at NOON Eastern Time and contact them directly. Good luck and enter as often as you like!
Until next time…
Ox Ox,
BFC
Brooklyn Fit Chick
Follow me on Twitter: "BrooklynFitChik" (note the spelling!)
Instagram: BrooklynFitChick
Pinterest: BrooklynFitChick
You Tube: BrooklynFitChick1