What Did We Learn This Month?
 Women's Health
May 2014
Women's Health Cover Star for May 2014: 
Is there any woman sexier than Sofia Vergara? Seriously—the woman steams up every scene she is in on Modern Family and I have never seen a bad picture of her. The Columbia native (and TOP earning actress on television) talks to Women's Health about all kinds of sexy subjects including business time with her fiancé Nick Loeb and her advice to women to keep their partners interested "…don't walk around the house with no bra and your t**s hanging out."
Okay…..well, maybe she isn't a delicate flower but at least she doesn't give boring quotes in magazines!
So what else is in the May issue of Women's Health? 
15-Minute Workout "Flat-Belly Yoga"
Looking for some yoga moves that will help with belly bloat? Try these from the Women's Health Big Book of Yoga. (Get you om on, people!)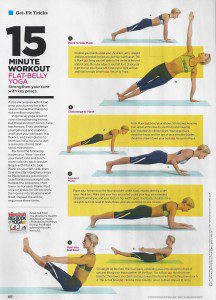 "45 Instant Health Upgrades"  
Women's Health teamed up with the hosts of The Doctors for simple health tips for women to boost their "mind, body and spirit." Includes these upgraded workout moves from Dr. Ian Smith that can be done quickly and take your routine up a notch.

 "Don't Let an Injury Take You Down"
Right now as I am typing this post I am dealing with a strained back and tight hamstrings so this article talking about rehabbing while getting back into fighting shape is helpful.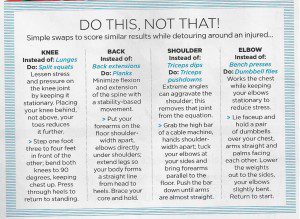 "Something to Remember"
I forget why I scanned this page….hmmmm. in the meantime—check out these tips on how to remember names. (I'm Margo by the way—and you are?)

And now the rest of the best of this issue of Women's Health:
"What Every Working Woman Should Know" Women's Health talks about the joys and perils of working part-time (beyond making way less money.)
"Special Cooking Section" There are several pages here of yummy recipes including one for Lamb Souvlakia that looks divine.
"Train Outside!" Tips for kayaking, paddleboarding, beach volleyball and more.
Overall Grade:
A-    Lots of good stuff in this issue—check it out!
You can check out Women's Health online as well: www.WomensHealthMag.com
Until next time…
Ox Ox,
BFC
Brooklyn Fit Chick
Follow me on Twitter: "BrooklynFitChik" (note the spelling!)
Instagram: BrooklynFitChick
Pinterest: BrooklynFitChick
You Tube: BrooklynFitChick1