EleVen by Venus!
Venus Williams' Strong & Fit Line
Brand Ambassador Announcement!!!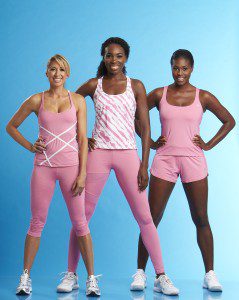 Hey there! Hi there! Ho there!
Can you believe that summer is finally upon us? I for one am just loving the hell out of this hot weather and do not want to even look at my black boots anytime soon (enough wearing layers, too!) Anyhoo, I just wanted to formally announce how super excited I am to partner with the super-amazing EleVen by Venus. Venus Williams is a personal fitness hero and I love how she keeps it fierce both on and off the court.
Last year I was lucky enough to take a spin class with Venus on behalf of Fit Bottomed Girls where she showed off an exclusive collection she created for Flywheel Sports. In the words of her brand team: "We are a fitness line, and a lifestyle brand promoting health, nutrition, motivation, exercise, performance training, healthy recipes – all ways to be fit and reach your goals."
In the near future I will be able to offer all of my friends and family (and as a reader of mine you count under both!) discounts on upcoming collections plus her best-selling gear. Yay for all of us! So stay tuned for all of the EleVen by Venus news in the future. It is looking so bright here—we gonna have to wear shades, y'all!
Until next time…
Ox Ox,
BFC
Brooklyn Fit Chick
Follow me on Twitter: "BrooklynFitChik" (note the spelling!)
Instagram: BrooklynFitChick
Pinterest: BrooklynFitChick
You Tube: BrooklynFitChick1