What Did We Learn This Month?
 Women's Health
June 2014
Women's Health Cover Star for June 2014: 
OMG—it's Miranda Lambert on the cover and I could NOT be more excited. Not only is she a kickass artist (Crazy Ex-Girlfriend is a favorite tune of mine) but she also is a domestic abuse victim's advocate (growing up her parents would take in women & children who were from abusive environment to help them get their on their feet) AND a friend of the animals who loves to take in stray dogs.
In approach of her upcoming 30th birthday Miranda decided to trade unhealthy eating habits for a balanced diet and workout schedule and has lost somewhere in the neighborhood of 20 pounds (she is not a huge fan of scale-watching.) Though offered mega bucks by huge weight loss brands to lose 40 pounds she decided to forgo the skinny-chick hype and keep it real. (She is stunning by the way!)
She offers us a look at her workout created by Crutch Boot Camp in Nashville owner Bill Crutchfield: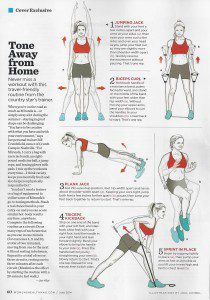 So what else is in the June issue of Women's Health? 
15-Minute Workout "Hold Still for a Hot Body"
I have habit of whipping through life like a whirling dervish but understand the need to keep still once in a while—even when working out. These isometric moves from BJ Gaddour of StreamFIT.com challenge you to hold each pose to get top results in no time.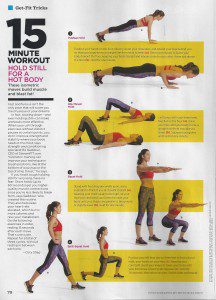 "What You Should Pop"  
I am not much of a vitamin popper but am reconsidering my stance on these things after reading this feature.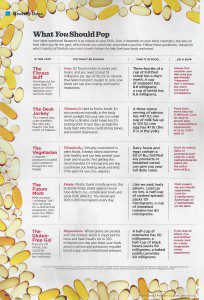 "2014 Beauty Award Winners"
I love my lotions, potions and creams and this round-up mixing both high end and mass beauty makes me all kinds of happy. (Plus, my Amazon Prime account which will ship me many of these items this week!)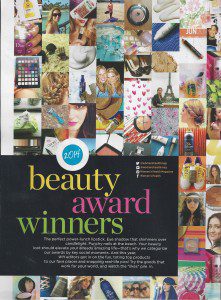 "Gotta-Have Gear"
Y'all know that I am a total bike chick and looking at gear like this makes me want to hit the road ASAP.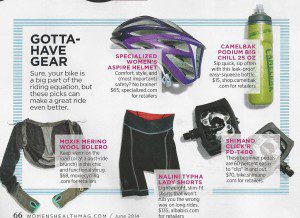 And now the rest of the best of this issue of Women's Health:
"Sun Mistakes You Are Probably Making" Women's Health sent "sun spy" Kayleigh Donahue Hodes to find out that even top dermatologists can misbehave with their SPF routines.  Plus, the best new products on the market to protect you from the sun's rays. (Get new products every year, people!)
"Sculpt an Action Hero Bod" Tips from top Hollywood stunt doubles to look like an action star. (Alas, without the movie star salary.)
"10 Food Choices to Make Now" Think about not only where you buy your groceries but where they ultimately come from in order to make the most ethical choices to fit your lifestyle.
Overall Grade:
A  This is one gorgeous magazine packed with great workouts and smart features. Go get it!
You can check out Women's Health online as well: www.WomensHealthMag.com
Until next time…
Ox Ox,
BFC
Brooklyn Fit Chick
Follow me on Twitter: "BrooklynFitChik" (note the spelling!)
Instagram: BrooklynFitChick
Pinterest: BrooklynFitChick
You Tube: BrooklynFitChick1