What Did We Learn This Month?
 Fitness
July/August 2014
What Do We Learn This Month in Fitness?
 "Game Time"
Trainer Melissa Morin created Adult Summer Camp class for the New York Sports Club and offered a few workouts you can do to mimic "playtime" on your own. (Love the "Surfer's Paddle" move!)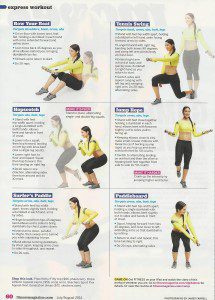 "Pump Up Your Run"
Fitness asked DJ Whoo Kid for his picks for a playlist that will help you fun faster and longer.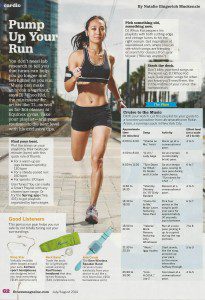 "The Fit Girl's Getaway Time"
Looking for a place to vacay that requires a little more out of you than some sunblock and a fruity cocktail? (That has to be true for someone out there, right?) Check out these ideas for taking your week off with some fun sweat sessions included.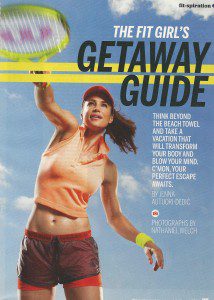 "Amazing Abs"
Trainer Anna Kaiser is super-hot these days with a reputation for helping her students get long lean frames and here we get a few of her moves that target your abs.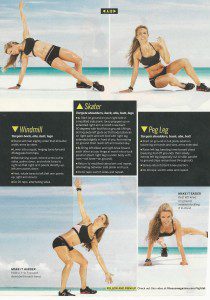 And now the rest of this issue of Fitness:
"The Proper Way to a Plank" I teach these several times per week but am always looking for new ways to describe how to actually perform a plank. Check out this guide on page 99.
"Ace Your Race" Whether or you're a hardcore runner looking to up your speed or a beginner looking tackle your first 5K—this guide will help you.
"Too Healthy For Your Own Good?" I know some folks have a hard time taking even one day off from their workout or veering from their diet in the slightest—but compulsive behavior can take over your thinking and cause bigger problems later. Signs on accessing how "addicted" you really might be.
Overall Grade:
A!  Throw this issue into your beach bag and stay inspired for the summer. (Go ahead and enjoy a fruity cocktail while you are at it!)
You can follow Fitness magazine at www.fitnessmagazine.com
Until next time…
Ox Ox,
BFC
Brooklyn Fit Chick
Follow me on Twitter: "BrooklynFitChik" (note the spelling!)
Instagram: BrooklynFitChick
Pinterest: BrooklynFitChick
You Tube: BrooklynFitChick1