What Did We Learn This Month?
 Shape
July/August 2014
Shape Cover Star for June/August 2014:
OMG! The one and only Jillian Michaels is on the cover and looking as fierce as always. Jillian turned 40 this year and is feeling pretty darn good about her life (and WHY not?) Inside the magazine she is butt naked and showing offer her strong physique. (Mrow!)
We also get the second-part of her exclusive Summer Shape Up plan if you want to try out her personal "Bodyshred" class on your own.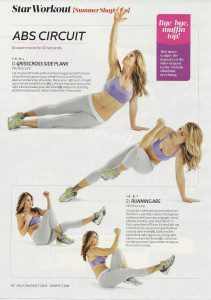 What else is on the July/August issue of Shape?
Venus Williams
I am a proud ambassador for EleVen by Venus workout wear created by the incredible Venus Williams who has a degree in fashion design from the Art Institute of Fort Lauderdale. Go Venus!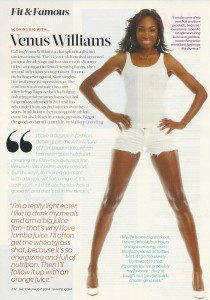 "Float Your Boat"
Kayaking is such a wonderful way to enjoy the water and get in an excellent upper body workout. Here we get tips for a day of paddling from pro Christie Eastman.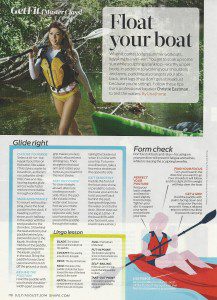 "Stay Toned on the Road"
If you are travelling this summer (and good on you if you are!) this workout created by trainer Mike Donavanik utilizes a chair & a wall to get in a perfect 15-minute workout.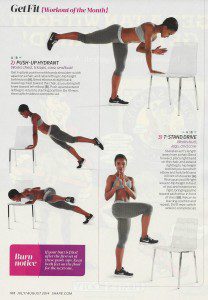 "Water Works"
Shape gives us a whole page of gear to help you spend a day splashing around in style. (The Astral water safe shoes give me the "I wants.")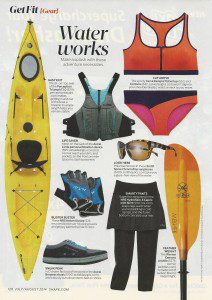 "Hit Your Stride"
Elliptical training expert Annette Comerchero created "EllipFit" in Los Angeles and you can try her exclusive workout here.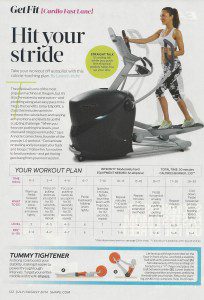 And now the rest of the best of this issue of Shape:
"Sunscreen Savvy" There is much more to sunblock and sunscreen than just lathering it on and hoping not to get burned. The best products for all outdoor activities plus how to apply them effectively.
"Brave New Workouts" Top fitness experts talk about trying all kinds of 'scary" workouts from CrossFit to obstacle races to Krav Maga. (need to try that last one!)
Follow Shape magazine online at: www.Shape.com
Overall Grade:
A  The July/August issue is an action-packed magazine you can take to the beach and enjoy. See you in September Shape!
Until next time…
Ox Ox,
BFC
Brooklyn Fit Chick
Follow me on Twitter: "BrooklynFitChik" (note the spelling!)
Instagram: BrooklynFitChick
Pinterest: BrooklynFitChick
You Tube: BrooklynFitChick1