Brooklyn Fit Chick Vlog Episode #87
The Super-Duper 2014 Fitbloggin' Recap!!!
Hey there! Hi there! Ho there!
I am finally ready to put some of my thoughts down about the latest Fitbloggin' convention (my fourth!) that took place in Savannah this year and offer myself advice for the next trip I take to the south. The days went by in a whirlwind and it was a great mix learning new skills and catching up with old friends.
I had a blast but let me make this absolutely clear—I would change some things if there were a chance for a "Savannah Fitbloggin' Do-Over."
Put "more" not less into the carry-on suitcase. It was so damn hot and humid in Savannah I mistakenly thought I could bring a couple of changes of wardrobe and be fine.  Soon enough, However, I was sweating my butt off and quickly ran out of options to wear to the multiple events held at the Hyatt. (Note to self—maxi dresses are a gift of the modern age.) If I had to do over there would be more options and less worry about saving space in the suitcase for souvenirs.
Bring a flatiron! It was over 90 degrees every day and high humidity so of course my hair had a freak-out. Managed to forget to bring a brush as well. (Also, never going to THAT salon on Fifth in Park Slope again for selling me a crap Keratin treatment!)
Pack the nice make–up: I brought along the usual "on vacation" drug-store mascara, eyeliner, foundation, etc. and every speck of it melted off my face in no time. Next time I haul my cookies down to Georgia I will remember to being the lotions and potions that work in any weather. (Think Sephora and not CVS beauty supply!)
Order some damn fried chicken! I somehow missed the opportunity to eat real southern fried chicken with gravy and biscuits. (Bad Margo! Bad! Bad!)
But other than that my time in Savannah was magical and I including a few of the highlights for y'all right here. (You're welcome!)
Day 1:
I was happily surprised to find two of my Blogger friends on the same flight as me. Brooklyn Active Mama and Kimberly of Manifest Yourself greeted me at the Jet Blue gate which immediately got me in the mood for fun times and good vibes. Look how gorgeous we are!
I landed in Savannah and checked on Facebook to find out that Thea of It's Me Vs. Me was looking for a lunchtime pal. I asked if she would be up for a good old-fashioned southern meal at The Olde Pink House and we were off to the races.
Many friends and acquaintances recommended I eat at "The Pink House" and color me grateful for that tip. This will forever be known as the spot where I first tried fried green tomatoes and watermelon gazpacho. Talk about NOM NOM good? Check out the photos to get an idea of how damn delicious it was:
Fried Green Tomatoes: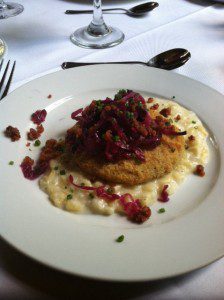 "BLT" Salad: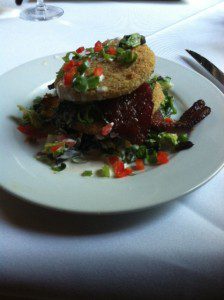 After our meal we were given the opportunity to explore the rest of Pink House (which was originally built as a private residence in 1789) and were completely blown away with both the décor and the history.
Dining room: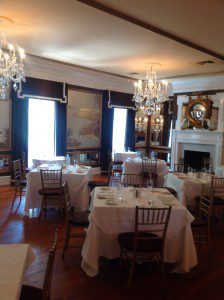 At one time the Pink House was a bank and this was the location of their vault (which is now a wine cellar)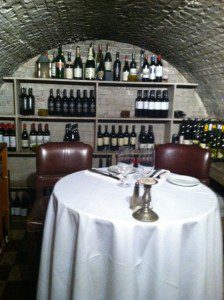 The "Pink House Pig" that I decided to call Oliver: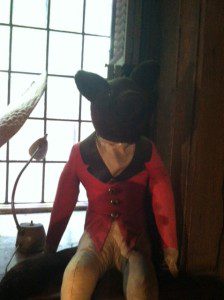 After our yummy lunch Thea and I headed over to the Gryphon Tea Room and were both gobsmacked at how lovely & charming the city is. So much so that I grabbed my iPad to take this video (apologies for not filming horizontally) to try and capture its essence—here it is!
Then we met up with the group for the prearranged tea time set up by "Losing Weight and Having Fun" Blogger Sarah: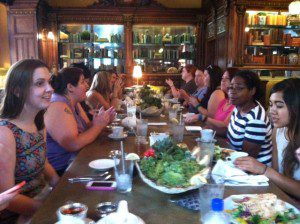 The Gryphon Tea Room was insanely beautiful and I was happy to join in the fun (sipping ice coffee because hot tea makes me gag.)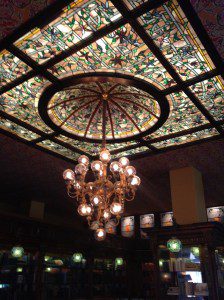 Whilst there I met up with my gorgeous roommate Christine of Dubya Wife (she brought a fancy hat and everything!)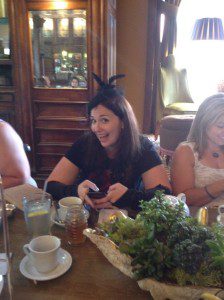 There were also pastries and yummy treats on display– however one of my lunch pals (who is of the British persuasion) described everything from the tea to the food as "upper crap."  Can't argue or agree with their assessment but to each their own, oui?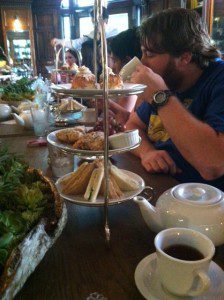 That day/night I stayed up until 2 am catching up with old friends and meeting new ones. It was fabulous and featured Legos! Yup–I got pretty drunk and stayed up WAY past my usual bed time. (Photographic evidence at the top.)
Day 2:
The next day I took the "Anti-Computer Body Workout" from celebrity trainer Ashley Borden who was kind enough to speak with me after class for my myriad of training questions. (Thank you Ashley!)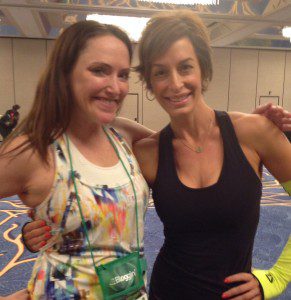 One of the best things about the trip was meeting up with fellow EleVen by Venus ambassadors such as Brooke Not on a Diet (love this girl!)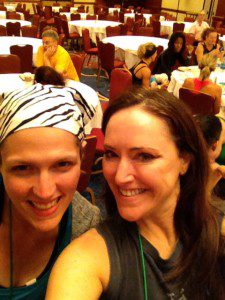 And once again with my Brooklyn bud Schnelle!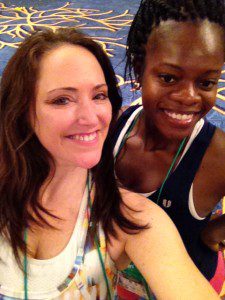 From the Sweat Pink & Fit Approach I grabbed Becky Stifter for this shot (how adorable is she, by the way?)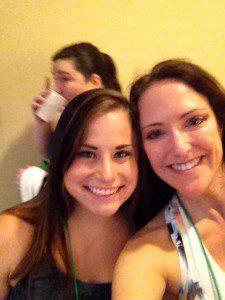 Day 3:
I was terribly nervous that NO ONE would show up for my small group discussion How to Pitch Brands for Ambassadorships and Sponsorships that took place Saturday morning at the same damn time as 80s Zumba!! (Who scheduled this? Why do you hate me?)
However I was pleased as punch to see I had a full room waiting for my advice. It made feel great and very useful.
During my talk I used Terry Bicycles as an example of a brand I help with their social media. I enticed my group to show up with the promise that one of them would win this package if they stayed the whole time: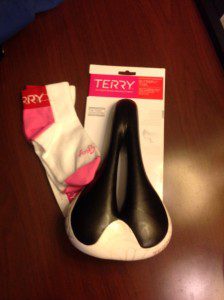 Lo and behold "Crabby" at Cranky Fitness was my winner for correctly answering this trivia question: "Name two Brooklyn singing legends who went to the same high school together in the 1960s" (Barbra Streisand and Neil Diamond, of course!)
She plans to enjoy her new seat rising around Provincetown soon.
Afterwards I was lucky enough to attend Katy Widrick's How to Make a Media Kit discussion which was so inspiring. Thank you Katy! She even has an example of a press kit created in a Word document! Really!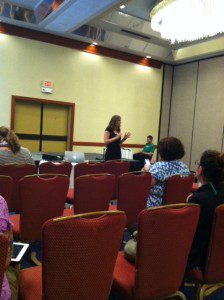 And just like that I had to run off to the airport and catch my flight back home. It was a fun time and I am pleased to announce here that Fitbloggin 15 will take place this time next year in Denver—whoo hoo!!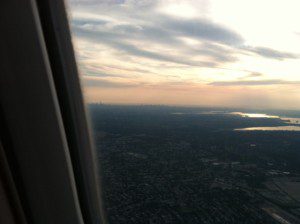 Wait–there's more–check out more of my thoughts about Fitbloggin with my newest Vlog post now filmed in landscape!
One of my favorite souvenirs from Fitbloggin this year is my collection of business cards I managed to remember to ask for this year (Grrr–I missed getting them from all of the people I wanted!)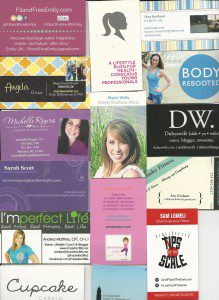 So what were your favorite parts of Fitbloggin? What was your favorite session? Where did you eat? I want to hear it all!!!
Until next time…
Ox Ox,
BFC
Brooklyn Fit Chick
Follow me on Twitter: "BrooklynFitChik" (note the spelling!)
Instagram: BrooklynFitChick
Pinterest: BrooklynFitChick
You Tube: BrooklynFitChick1