Brooklyn Fit Chick Vlog Episode #88
She's Nacho Mama Podcast, Tips for Indoor Cycling Classes, "Manhattanhenge"
Plus: Motivate Wrap and Foot Notes Shoe Charm from Momentum Giveaway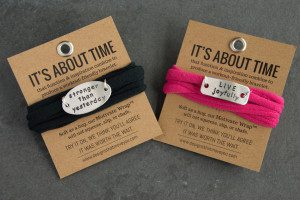 Hey there! Hi there! Ho there!
It has been quite a hot week in New York and I have been busier than usual in both my work life and "real" life but as always I am happy to do my weekly check-in with all of you. So instead of babbling on and on—let's dive right in to this week's news bits (which includes a giveaway & discount code from Momentum workout jewelry) and then head into this week's Vlog (my 88th!)
She's Nacho Mama's Podcast: Power to the Margos! The lovely Margo of She's Nacho Mama Podcast had me once again as a guest on her show to talk all about Fitbloggin in Savannah and it was a hoot! First of all we were both obsessed with The Pink House and Jim Williams who was the main subject featured in the non-fiction book Midnight In the Garden of Good & Evil (Kevin Spacey played him in the utterly forgettable Clint Eastwood film.) The two Margos talk about our daily exploits during the convention, our favorite meals, the hot weather, my messy hair, her ice cream-stained outfit and more in this rollicking hour. Thank you so much Margo for having me on your show!
Manhattanhenge: What is Manhattanhenge? Well basically there are only two nights each year where the sun sets along New York City and the sun aligns perfectly between the buildings. My awesome big brother Joe suggested we go together and we started at the Tudor City Bridge overpass on 42nd street which quickly became too crowded so he suggested we watch from the street. At first I played the role of his mother and scolded him for walking into traffic to get a better look. But soon enough we were both standing in the middle of the street getting our shot in. See!
I have a video of the moment as well where you can hear me squealing with delight. It was just so cool!!!
Motivate Giveaway: Motivate was created by Amy Cochrane who wanted to offer workout lovers wearable jewelry to the gym (or on the road) to both inspire and look cool. Motivate has dozens of options for both colors and slogans you want to wear on your wrist (the Motivate Wrap) or shoe laces (Foot Notes shoe charm) and all of the work is top notch. Even better than looking great—they are SO comfortable to wear. You will not have something that feels scratchy or binding on your wrist and it will give just that hint of extra awesome when you need a little extra motivation.
I am hosting a giveaway on my Blog this week but if you are looking to order one on your own be sure to visit their website http://www.designsthatmoveyou.com/ and use the code GGS 158 to get an extra 15% off up until September 15, 2014. Score!
Motivate will send the Motivate Wrap and Foot Notes to the winner directly and did not pay for this post. They will handle all shipping and details about the winning items.
Now on to this week's Vlog and Motivate giveaway details!
Be sure to follow Motivate at the following places:
facebook:  /designsthatmoveyou
twitter: @MomentumJewelry
pinterest: /momentumjewelry
instagram: momentumjewelry
If you want to win this giveaway you must do the following (Continental United States only, please!)
Post a comment below (on this post) letting me know you are interested.
Post a comment on Twitter that says "I want to win the Motivate Wrap and shoe charm @momentumjewelry from @brooklynfitchik"
If you haven't already—let me know you are subscribing to my You Tube channel
I will pick one winner at random on Monday, July 21st at NOON Eastern Time and contact them directly. Good luck and enter as often as you like! (I suggest you use all social media outlets to up your chances!)
Until next time…
Ox Ox,
BFC
Brooklyn Fit Chick
Follow me on Twitter: "BrooklynFitChik" (note the spelling!)
Instagram: BrooklynFitChick
Pinterest: BrooklynFitChick
You Tube: BrooklynFitChick1