What Did We Learn This Month?
 Women's Health
July/August 2014
Women's Health July/August Cover Star:
I love Shailene Woodley. Not in that dopey "girl crush" way (an expression I loathe) but in a "wow—there is a genuinely nice human being who is using their fame to highlight important causes" kind of way. Shailene is a gal who likes simple things—food cooked in "their purest version," using beets to not only eat but also as blush on her cheeks (really!) and living life out of one carry-on suitcase.
Shailene is having one heck of a summer as the star of The Fault in Our Stars which is sending the actress into superstar status around the world. She could walk around with a sense of entitlement and look down on others but instead one of her goals in life is to "be the best version of myself and be so kind and compassionate towards others."
Honestly I could go and gush about her so more but just get the magazine and read about this fabulous young lady on your own. She is good people!
So what else is in the July/August issue of Women's Health? 
15-Minute Workout "Run Faster, Get Firmer"
Summer's here and we are all enjoying the cardio outside thing but many of us neglect weight training which can actually slow us down. Dr. Jordan Metzl (author of The Exercise Cure) provided this workout that uses bodyweight only (no equipment!) and can be done anywhere to supplement your cardio workouts.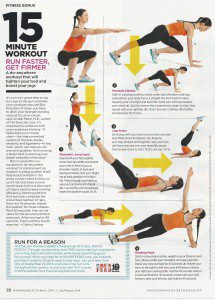 "4 Moves: Insanely Toned Abs"  
Here we have a crunch-free workout from trainer Katie Mack (Peak Performance NYC) that you can perform three sets of on three non-consecutive days per week to get your core lean and strong.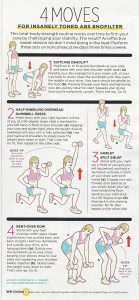 "8 Ugly-Cute Sandals"
This is one trend I just can't get behind. Not that I hate comfy sandals but I like "cute" things in my glossies.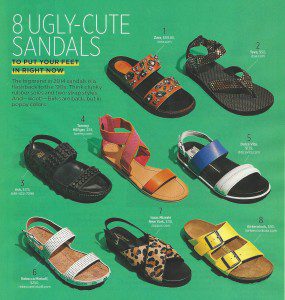 Now for the pages that give the "I Wants!"
Women's Health has collected several shopping pages in this issue that are making say "I want that!" for example:
"Get Outside"
There are tips for taking average of "free equipment" in your local park plus gear to keep you safe from the elements.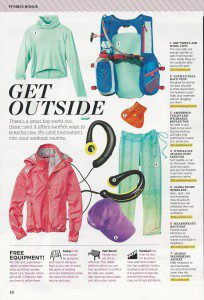 "Be Mindful"
I love me some yoga gear… (And the Oakley Energy Tank is tres adorable!)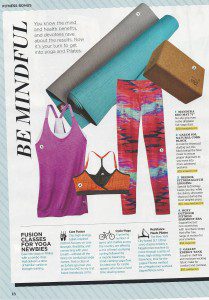 "Run Better"
Okay—I am not a big runner but the Asics Abby Pocket Bra featured here is to die for!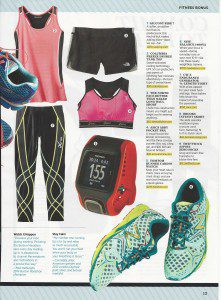 The rest of the best of this issue of Women's Health:
"Power Up Your Beauty Routine" Women's Health collected the latest beauty products that will help with sun damage, tired eyes plus a souped-up dry shampoo I wish I had with me at Fitbloggin' this year.
"Guide to Sex Toys" Pretty thorough I have to say…
"High Anxiety" Science shows that women are more prone to anxiety and acute fears than men.  (Um, is that a ladder you would like me to climb? No thank you.) If you have phobias that hold you back from enjoying life—check out this article.
"Vote for the Next Fitness Star" Women's Health has narrowed down the finalists for their annual "Fitness Star" competition and you can meet them all in this issue.
Overall Grade:
A This issue made me happy!
You can check out Women's Health online as well: www.WomensHealthMag.com
Until next time…
Ox Ox,
BFC
Brooklyn Fit Chick
Follow me on Twitter: "BrooklynFitChik" (note the spelling!)
Instagram: BrooklynFitChick
Pinterest: BrooklynFitChick
You Tube: BrooklynFitChick1