What Did We Learn This Month?
 Shape
September 2014
Shape Cover Star for September 2014:
Brooke Burke-Charvet is on the cover and the 43 year-old mom of four is excited to start her new venture Caelum athletic wear (she teaches "Booty Burn" classes in her hometown of Malibu.) She looks totally amazing by any measure but especially after all of her recent heath and career woes.
First, Brooke was rather rudely dumped by the producers of Dancing with the Stars competition show that she had been a part of for several years ("going in a new direction" is how they explained it to her over the phone while she was carpooling her kids around–sheesh!)
Then the sh*t got real…
In short, Brooke had Hashimoto's disease for over ten years and took medicine to help her manage her hypothyroidism. Over time she discovered a lump which turned out to be thyroid cancer and she had a thyroidectomy. (Yikes!!)
Brooke is currently feeling better than ever and shows off a few of her favorite "Booty Burn" moves inside this issue of Shape: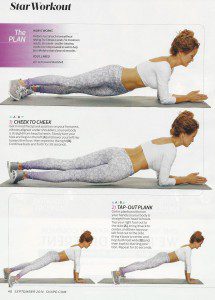 What else is in the September issue of Shape?
"Trail Moves"
Orthopedist John Muyan, M.D., director of sports medicine at Maimonides Medical Center (in Brooklyn!) offers these exercises which help strengthen the muscles that are challenged most when running on "uneven surfaces."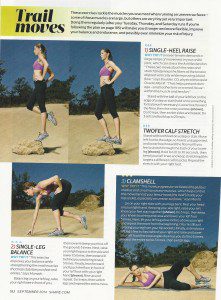 "Big Time"
I rarely wear my heart rate watch anymore but the batch featured on this page look pretty damn cool!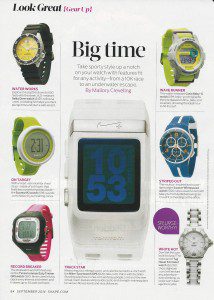 "Hit The Trail"
Shape picks the best (and cutest) gear to take on your next hike outside.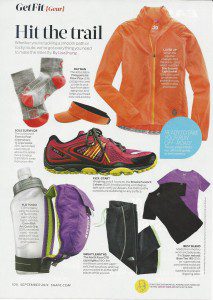 "Super-Sculpters"
I really, really liked the band workout featured here by trainer Rachel Piskin of ChaiseFitness.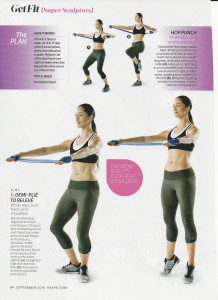 "On Your Feet"
Suzanne Bowen of Barre-Amped Boot Camp DVD created this low impact walking workout that takes only 30 minutes to do and will build your leg strength.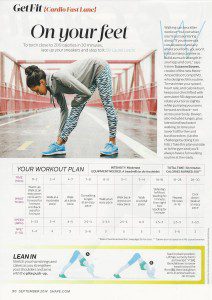 And now the rest of the best of this issue of Shape (A little lean this month…)
"Word of Mouth" The best new products on the market for oral care.
Sofia Vergara: Looking smoking hot in the back of the magazine.
Follow Shape magazine online at: www.Shape.com
Overall Grade:
B+ The workouts featured are all great but the fashion pages left me wanting more. Just sort of "meh" for me this month but I set a high bar for Shape so let's look out for October!
Until next time…
Ox Ox,
BFC
Brooklyn Fit Chick
Follow me on Twitter: "BrooklynFitChik" (note the spelling!)
Instagram: BrooklynFitChick
Pinterest: BrooklynFitChick
You Tube: BrooklynFitChick1