Brooklyn Fit Chick 
Fitness magazine "Meet & Tweet" NYC Event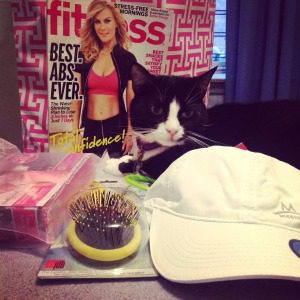 Look at this goodie bag! (Okay, the cat did not come from Fitness magazine.)
Hey There! Hi There Ho There!
Today is quick post going up because I am leaving for a week-long business trip coming up and am not going to be able to Blog very much whilst I am gone.
But fear not–I will be back very soon and will have a super, duper giveaway to offer on the 99th (!) Vlog episode to go live October 26th.
So what's so great about the next giveaway? Well they will just happen to be a few select items from the goodie bag I received at the Fitness Magazine "Meet & Tweet" NYC Event. Honestly this event kicks ass every year and I always leave completely astonished at how much STUFF we get to take home! Sneakers from Hoka One One, skin care from Dermalogica, gear from Eddie Bauer and so much more.
In fact, there is so much great merchandise here that I am sharing the wealth via my next Vlog post so hang on to your knickers and get ready to win something special!
When I get back from my trip I will give you the lowdown of the "Meet & Tweet" but in the meantime, please enjoy these photos:
That's all I have right now.  I will still be tweeting, Facebooking and Instagramming like a fool and won't be completely off the  grid. See you all soon! (I am sorry the font is different here, damn WordPress!!!)
(If you are reading this on a different site or a different feed than Brooklyn Fit Chick, it has been taken without permission.)
Until next time…
Ox Ox,
BFC
Brooklyn Fit Chick
Follow me on Twitter: "BrooklynFitChik" (note the spelling!)
Instagram: BrooklynFitChick
Pinterest: BrooklynFitChick
You Tube: BrooklynFitChick1