What Did We Learn This Month?
 Fitness
October 2014
Who Is on the Cover of Fitness this Month?
Alison Sweeney is the October cover star and she is celebrating the new Days of Our Lives-less version of her life. The busy mom of two who also stars on The Biggest Loser is continuing her writing career (she is a novelist) and is excited to take on some directing projects in the future. Also on Ali's "to do" list—yoga!
What Do We Learn This Month in Fitness?
"Firm, Baby, Firm"
Use this band workout from Alonzo Wilson of Tone House New York studio to get in top shape and create long & lean muscles.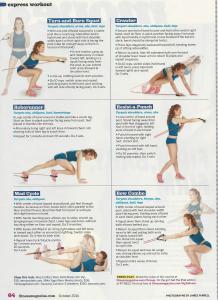 "Power Play"
Fitness asked exercise physiologist Michelle Lovitt for advice on how to up your plyometric routines to take time off of your runs.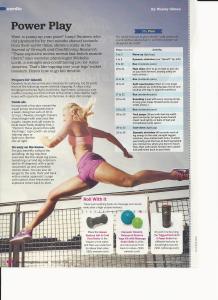 "2014 Fitness Beauty Awards"
After trying out over 1500 of the best lotions and potions to make your look beautiful –Fitness offers their best bets for hair, skin and more.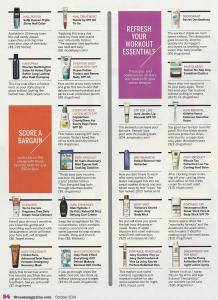 "Slimmer in 7 Days"
Trainers David and Dylan Schenk of Cross Train LA created this week-long plan to help jumpstart that your fitness plans for the fall.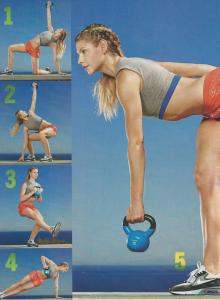 And now the rest of this issue of Fitness:
"Take it Outside" Just because we are getting cooler weather now doesn't mean you have to give up the great outdoors. Try these pages to get the latest gear to hike and run safely and in style.
"Fitness Healthy Food" The editors of Fitness pick the best packaged foods on the market that are good for you.
"Edible Engineering" Finally—a NON-scary story about GMOs that is backed by science. Finally!!!
Overall Grade:
A  Can't wait to see you all next week at the "Meet & Tweet" event Fitness staff!
You can follow Fitness magazine at www.fitnessmagazine.com
(If you are reading this on a different site or a different feed than Brooklyn Fit Chick, it has been taken without permission.)
Until next time…
Ox Ox,
BFC
Brooklyn Fit Chick
Follow me on Twitter: "BrooklynFitChik" (note the spelling!)
Instagram: BrooklynFitChick
Pinterest: BrooklynFitChick
You Tube: BrooklynFitChick1