What Did We Learn This Month?
 Health
November 2014
Health Cover Star for November:
Jillian Michaels is on the cover and inside the magazine she talks about her various controversies with the show The Biggest Loser, her busy life with partner Heidi Rhoades and two kids, her favorite guru (Suze Orman) as well as her struggle to deal with her sexuality.
Her favorite piece of advice comes from Orman who said when you are dealing with confrontation "fight fire with water" which I really kind of like.
Jillian offers her own quick "Total-Body Shred" workout you can on your own over the holidays—see!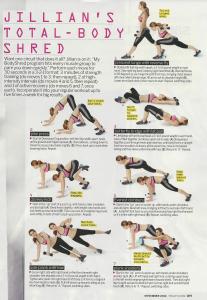 So what else is inside the November Health?
"You Can Muster a Tough Pose"
The one yoga pose I have yet to figure out is the "Crow" so I love this illustrated "how-to" from Kristin McGee.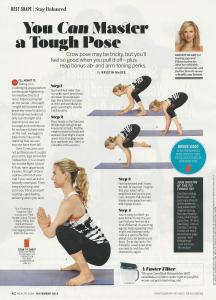 "10 Smart Sweet Swaps"
If you are looking to cut back on sugar & carbs this guide from Cooking Light magazine (who gave them to the good folks at Health) featured here is real helpful.
(picture)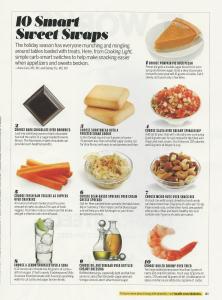 And now the rest of the best of this issue of Health:
"Your Reproductive System: A User's Manual" The editors of Health talk about your lady parts in a clear and concise way which I totally appreciate.
"Activewear to Wear Everywhere" Really cute fashion pages on what you can wear from the gym throughout the day.
"Your Gut Can Make You Slim" There are "good gut" foods and those you should avoid if inflammation is a concern. Check out this feature if you have tummy troubles.
"Fend Off Any Flu" This reminds me—I need to get my flu shot!
"Six Medical Breakthroughs That Matter" The latest technological advances that can help improve your health. .
Follow Heath online at: www.Health.com
Overall Grade:
B This issue was very slim and did not feature enough workouts for me. Maybe next month?
(If you are reading this on a different site or a different feed than Brooklyn Fit Chick, it has been taken without permission.)
Until next time…
Ox Ox,
BFC
Brooklyn Fit Chick
Follow me on Twitter: "BrooklynFitChik" (note the spelling!)
Instagram: BrooklynFitChick
Pinterest: BrooklynFitChick
You Tube: BrooklynFitChick1