What Did We Learn This Month?
 Muscle & Fitness Hers
November/December 2014
So what is going on with the November/December Muscle & Fitness Hers?
"Superfit in a Flash"
IFBB Bikini Pro Talia Terese demonstrates full body moves that will help you rev up your metabolism while gaining lean muscles.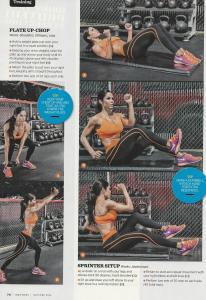 "Flex Appeal"
Holidays stress you out and leave you feeling tightly wound? Then try some of these dynamic and static stretches from IFBB Bikini Pro Michelle Johnson.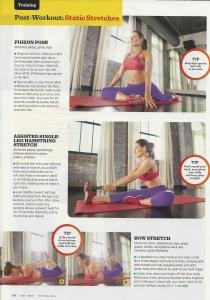 "Live Fit Holiday Gifts"
Its holiday gift guide time—yippee! Seriously, for a fit girl who likes shopping these pages are wonderful. The pink lifting belt by G-loves.com is especially cute!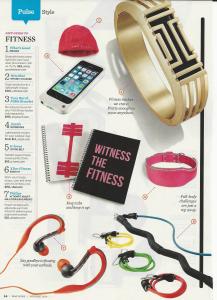 And now the rest of the best of this issue of Muscle & Fitness Hers:
"Rockin' Rockettes" Two members of the elite Radio City Christmas Spectacular dance squad talk about their off-season training and how they make those eye-level kicks look so damn perfect.
Ryan McDonagh: The New York Rangers defensemen is a fan of the Women's U.S. Olympic hockey team, eats tons of bison burgers to keep lean and spends the off-season doing charity work with his wife and mother-in-law. So he is pretty much perfect in my eyes.
"Kick Up Your Fat Burn" IFBB Bikini Pro Stacey Alexander offers tips on how to up your kick boxing game. .
"3 Tips for a Healthier Winter" Once again I am being reminded that I need to get my flu shot!
"Winning Big" Brand new Biggest Loser trainer Jen Widerstorm (http://www.teamjennifer.com) was inspired to get fit by her body builder dad and later starred on American Gladiators playing "Pheoenix." Jen is also on the cover and offers her own butt-kicking workout featured in this issue.
Follow Muscle & Fitness Hers online at: www,muscleandfitnesshers.com
Overall Grade:
A Lots of excellent workouts here featuring women with actual muscles. Hallelujah!!
(If you are reading this on a different site or a different feed than Brooklyn Fit Chick, it has been taken without permission.)
Until next time…
Ox Ox,
BFC
Brooklyn Fit Chick
Follow me on Twitter: "BrooklynFitChik" (note the spelling!)
Instagram: BrooklynFitChick
Pinterest: BrooklynFitChick
You Tube: BrooklynFitChick1