What Did We Learn This Month?
 Women's Health
December 2014
Women's Health Cover Star for December 2014: 
Are you a fan of The Walking Dead? Well then you are in luck because star Lauren Cohan is on the cover of this issue and talks about life in the Chattahoochee Hills, Georgia where the show is filmed. Lauren is a gal who was born in New Jersey and grew up in London so she was raised to be adaptable.
She doesn't give away any secrets about the show but admits playing a badass has put her in the best shape of her life. When filming most meals consists of fish and vegetables and she is putting together her first healthy living cookbook. Can't wait to give away that one on my Blog when it is published… (Big hint to Lauren's PR team!)
So what else is in the December issue of Women's Health? 
15-Minute Workout "Roll With It"
There are few things I love more than my foam roller—really! You have tight muscles, back pain or knee pain? Just roll it away and Lauren Roxburgh (a wellness coach and fascia/alignment expert) who created a safe & effective workout using one of them at home.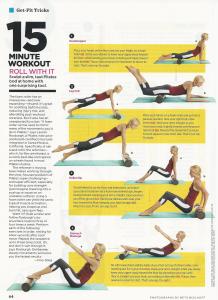 The Only Thing I Want for Christmas  
This is not a joke—all I want for Christmas is this Drybar Big Hair Don't Care Holiday Kit that is featured in the magazine's gift guide. Any takers?

"The Circle of Life"
LOVE this page which shows the proper length of time you should own certain gym items. (Looks like I need to switch out some sports bras…)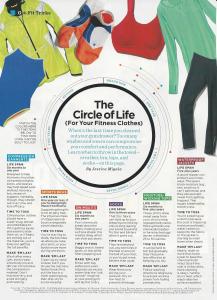 "Push Back Workout Obstacles"
Super handsome trainer Adam Rosante is all over the media these days with a new book (The 30-Second Body) coming out in March. Here he offers a few exercise suggestions for those of us crunched for time this holiday season. (I plan to try this out tonight!)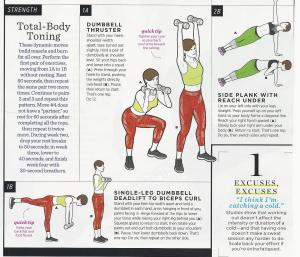 And now the rest of the best of this issue of Women's Health:
"Does Shanelle Gabriel Look Sick to You" What's it like to have a disability/pain issue that people can't see. (My good friend Marilee taught me about this!)
'Lose Your Mind to Boost It" The whole point of this piece is that you need to lose the meaningless and painful memories from your life in order to get over your own particular obstacles.
Overall Grade:
A  Lots of great workouts and a FABULOUS gift suggestion just for me is making me happy this month.
You can check out Women's Health online as well: www.WomensHealthMag.com
(If you are reading this on a different site or a different feed than Brooklyn Fit Chick, it has been taken without permission.)
Until next time…
Ox Ox,
BFC
Brooklyn Fit Chick
Follow me on Twitter: "BrooklynFitChik" (note the spelling!)
Instagram: BrooklynFitChick
Pinterest: BrooklynFitChick
You Tube: BrooklynFitChick1